COMOX, B.C. – The Comox Valley BC SPCA branch is currently sanctuary for reptiles, rats, and a spider.
The branch took in four crested geckos, a red-tailed boa constrictor, and a tarantula from the BC SPCA's Nanaimo location.
Also under the shelter's care are nine rats, also from the Nanaimo branch.
The group of exotic animals came into the BC SPCA's care about three weeks ago.
"We received some of them from another shelter so we've had them for about a week, now," Comox Valley branch manager Emily Priestley said.
Over the past five years, an increasing number of reptiles have been surrendered or handed over to the local shelter.
"We'd occasionally get bearded dragons and that kind of thing," Priestley said. "But over the years there are more and more people keeping them as pets and they are more readily available at pet stores, so we see them quite routinely."
Priestley said you have to meet a certain criteria in order to adopt these kinds of animals.
"We are very careful to make sure they are going to an experienced reptile home, so somebody who has had reptiles in the past or currently has reptiles and knows what they're doing," she said. "They're not great pets for the kids or in a loud household or that kind of thing."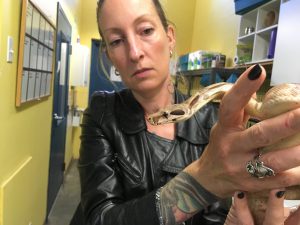 As well, some reptiles are nocturnal and don't like to be handled, and will hide during the day, according to Priestley.
"Some people want them for classrooms or just for their kids to play with, and they're really not great for that," she added.
The female boa constrictor is non-venomous and is very young, under a year old but will grow to be five feet or longer.
There are snakes that you can't have as pets in Canada but this particular one won't pose any sort of risk, Priestley said.
Whoever adopts these animals must be prepared and have a suitable habitat for the reptiles and rats. The SPCA wants to see proof of a proper habitat/enclosure in place before adopting the reptiles out.
"For crested geckos, at a pet store, you could be looking at about $350 to get a proper set-up," Priestley said. "It's sometimes very cheap to buy the actual animal, but the care and setup for them is quite expensive. And any vet care, usually they're going to a specialty vet… and that can be very pricy as well."
The three-month-old rats are available for adoption.
Rats are very social, so it would be preferable seeing two or more of them housed together, Priestley noted.
"They like to sleep and cuddle together and hang out together, and clean each other. We usually have them in quite large cages… with multiple levels and platforms and activities for them to do."
Call the SPCA at 250-339-7722.