Story by Troy Landreville, MyComoxValleyNow.com
COURTENAY, B.C- History and heritage will soon be raised at the Comox Valley Art Gallery.
Two totem poles, carved by Karver Everson and Randy Frank from K'ómoks First Nation, are about to go on display at the gallery entrance.
The gallery approached the carvers and asked them to create two poles that would reflect Comox's history.
"The gallery also wanted to create a space to come together, and a really beautiful place to acknowledge our history and at the same time speak to the Comox Valley and where we're headed as K'ómoks First Nation and as a community as a whole," Everson told MyComoxValleyNow.com.
According to Everson, the design is intended to show unity, and is based off a local First Nations story about a place near Quadra Island where four K'ómoks tribes came together and amalgamated, to form what is known as the Whale House.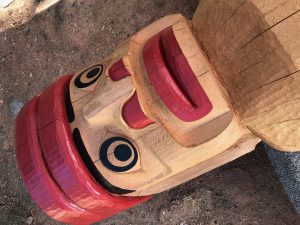 "We put two whales on the bottom and guardian figures on the top of the totem pole to acknowledge that history as well as unity, and coming together within all of the nations," Everson said.
"It is a nice representation to be unified, not only with the First Nations but with the community as a whole."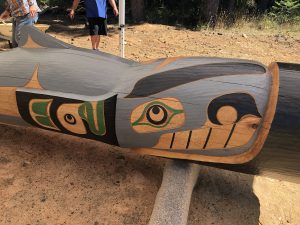 Everson and Frank were guided by Calvin Hunt, a mentor and head carver, based out of Fort Rupert.
Hunt came travelled to the valley for nine days overall, throughout the project.
"He would help us for three days at a time, and then go back, and then he'd come back and see our progress and help us out, and then go back," Everson said, of Hunt.
"He was hands-on when he was here but he kind of left it in our hands which was also really great for our learning and progress, too, as artists."
There are no firm dates regarding when the poles will be put on display, but it will happen within the next two months, according to Sharon Carsten, the executive director of the Comox Valley Art Gallery.
"It's really exciting," Everson said. "The poles are completed now, so it's just a matter of getting the prep work for the engineering and pouring the concrete… for the bases and that structural component to have them put up."