COMOX VALLEY, B.C. – The local RCMP detachment wants to know who's been vandalizing vacuums.
According to a release from Constable Monika Terragni, the detachment has received seven reports of mischief to coin-operated vacuums at a local car wash.
The business has security cameras installed, and Terragni said there is footage of the culprits. However, it's not always the same person committing the crime.
In another case, on August 18th, a hiker near Battleship Lake reported coming across an elderly man who appeared to be disoriented in the area. A police officer attended the scene, and activated Comox Valley Ground Search and Rescue (SAR).
The man was located by SAR and it was determined that he was having a medical emergency. BC Ambulance joined up with SAR and police. The elderly man was safely evacuated from the woods and transferred over to hospital.
On August 9th, police received a report of a cat left in an unattended hot vehicle in downtown Courtenay. The SPCA attended and retrieved the cat.
On August 12th, the RCMP responded to a collision on Bates Road. A car had crashed into a parked pickup truck.
The driver remained at the scene and police discovered that the driver had been drinking alcohol. They were issued a 90-day driving prohibition, several violation tickets were issued and the vehicle was impounded for 30 days.
At around 12:30 a.m. on August 20th, a suspect, or suspects, broke into a business on the 900 block of McPhee Avenue in Courtenay.
The only item stolen from the business was a 28-foot extension ladder. It was later recovered on the 900 block of 8th Street in Courtenay, and returned to the owner.
The investigation into the incident continues.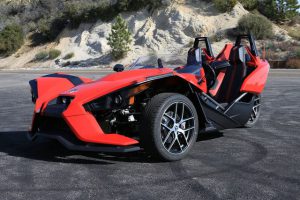 Overnight on August 12th, a motorcycle was stolen from a residence on the 400 block of 13th Street in Courtenay. The motorcycle is a red 2016 Polaris Slingshot.
Terragni noted that it has a BC license plate of PB562G.
Anyone with further details is asked to contact the RCMP at (250) 338-1321 or CrimeStoppers at 1-800-222-TIPS (8477).