POWELL RIVER, B.C. – A couple in Powell River marked their marital union with a tradition that dates back hundreds of years.
Mario Paul and Tana Paul were married on August 11th, 2018 at Willingdon Beach in Powell River. Jerry Oleman officiated the ceremony.
What was even more special about the day was the use of the Salish canoe, the Ohtaqken ("A Way of Life").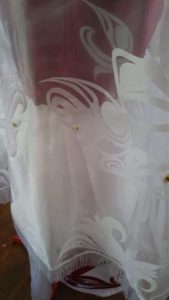 It was the first Salish canoe wedding in over 100 years, according to Mario's mother, Cyndi Pallen.
"I think as parents, we were really proud to support this traditional wedding, because you know, it hasn't been done before and everything that went into it," said Pallen.
"I composed a wedding song for them, we all sang that to them so that's when I got emotional because then it became a reality."
She noted that her husband skippered the canoe, and designed many of the elements of the wedding attire – including t-shirts worn by the groomsmen, headbands, and the shawl worn by the bride.
There were 125 people invited to the wedding, plus all the onlookers at Willingdon Beach. Pallen said it was a fantastic, memorable day for everyone involved.
Image caption: Mario Paul and Tana Paul were married in the first Salish canoe ceremony in over 100 years on August 11, 2018. Photo courtesy Cyndi Pallen.