COMOX VALLEY, B.C. – Beads of sweat clung to 'Echo's' forehead and cheeks as the young man spoke about being homeless, with no relief from the hazy layer of smoke that has filled the landscape.
Standing near a small homeless camp a stone's throw from the wooden railroad tracks behind the Courtenay Walmart, Echo, who looks to be in his early 20s, said he's been homeless "on and off" between here and Alberta over the past few years.
Due to the intense wildfires burning in the North Island, Environment Canada issued a special air quality advisory for many regions, including the Comox Valley, although the air is supposed to clear with the arrival of clouds, possible rain, and cooler weather towards the weekend.
But over the past few days, the air has been unbearable for many, including Echo, who says he's never experienced anything quite like this.
"It's definitely rough," Echo told MyComoxValleyNow.com. "Honestly, I noticed it affects the weather a lot, the heat… it's almost like it blocks the UV rays from the sun. Respiratory wise, it's thick. It's not as clean, and it definitely slows you down. It takes its toll."
Preceding the smoke was oppressive heat, with a heat warning issued for the valley. His eyes tracing the dirt floor, Echo pondered the question of which weather system is worse.
"Does the heat and it (smoke) work together in making it very uncomfortable? Very much so," he said.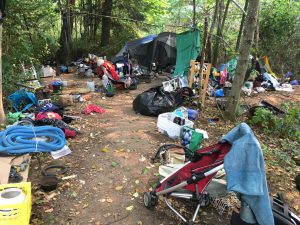 MyComoxValleyNow.com spoke to Comox Valley Coalition to End Homelessness coordinator Andrea Cupelli on the matter.
"Certainly this has had an impact on those who don't have access to safe indoor shelter," Cupelli said.
"Many homeless people are already dealing with health challenges and the smoke doesn't help. Those of us who have a home are able to shut doors and windows to breathe easy, and do not have to spend most of their day outside."
According to Cupelli, several service providers have been discussing this concern of many of the homeless folks in the Comox Valley not having anywhere to get away from intense smoke.
Cupelli said that this is a relatively new scenario that homeless advocates had to consider now for the last two summers, so there isn't a formal protocol in place like there is during extreme weather protocols.
MyComoxValleyNow.com has reached out to  Sarah Sullivan, the lead of the AHERO (Adhock Emergency Response Organizations) who, Cupelli said, "has been the head of this conversation as of late."