BULKLEY-NECHAKO, B.C – As evacuations are ordered through the Bulkley-Nechako region, some residents have stayed behind to fight the flames themselves.  
According to the BC Wildfire Service, the Nadina Lake and Verdun fires, around 70 km north of Burns Lake, are burning a combined total of close to 96,000 hectares. As of this publication,106 firefighters were on scene between the two, along with helicopter support and heavy equipment.  
The areas near the two fires were issued evacuation orders over a week ago and no one is being allowed back into the area. Some residents are expressing their frustration over the lack of support from the regional district, the BC Wildfire Service and the province.
Shyler Macewan, whose parents live in the affected area, said while the fire fighters on the ground have done a great job, crews are not being allocated properly from "higher up".
"Everyone is feeling really abandoned. They're just leaving it to burn," said Macewan.  
"They are letting these people's timber, their cattle, their homes and all their ranges burn, because we don't have the population density to justify sending things up here."
"We need more support, we need more boots on the ground, but mostly we need air support,"  she said.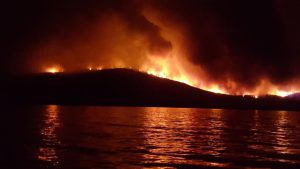 Macewan estimated that "roughly 100" residents had opted to stay behind the lines in the evacuation zone, some of whom are working up to 21 hours a day creating fire breaks to protect their homes.
Erin Catherall of the BCWS said the service has to prioritize their resources.
"When we have crews working on fires, there are a number of factors that we are looking at, life and property are our number one priorities," she said.  
"We are really trying to encourage people behind the lines to understand the inherent risks of being in the evacuation zone."
According to Dana Glanville, who authored a Facebook post "on behalf of the residents affected by the fires surrounding Francois Lake", residents staying to fight the fires know what they're doing.
"These are not inexperienced individuals making some sort of romantic last stand. These people are literally fighting for their lives, their homes, and their livelihoods because the province has made it clear they either cannot or will not help," wrote Glanville.
Flo Schade, who started a petition to bring Premier John Horgan to the area, said frustration is directed at the "heads of government" who failed to provide necessary leadership.
"How can you fix a meal when all you are given is breadcrumbs?" Said Schade.  
"We expected more from our provincial and federal governments, especially after the state of emergency was declared, but it seems as though all those resources went to other areas. The people here are battling the two largest fires in the province with little to no institutional help."  
Taylor Bachrach, Mayor of Smithers and media spokesperson for the region, said the district has been doing it's best to save resident's property and resources.
"We have a team here at the district that is working specifically on trying to help farmers get their livestock out of the evacuation zones," he said.  
Bachrach estimated the team had already saved 5000 head of cattle.
"Everyone understands why they would be compelled to stay behind and protect their property.
Our message is that if you are in an evacuation order area, you should evacuate."
To help support Bulkley-Nechako residents, visit:  https://www.facebook.com/donate/279677222762595/
Copy the link below for the petition: 
https://www.change.org/p/john-horgan-where-is-our-premier-petition-john-horgan-to-visit-wildfire-devastation-in-northern-bc