COURTENAY, B.C- Two new totem poles are going to be raised in the Comox Valley this month.
Carved by Randy Frank and Karver Everson, the poles are going to be installed on the sidewalk near the front entrance of the Comox Valley Art Gallery, located across from the Courtenay Library.
According to City Council minutes, the poles will be installed on Oct. 27.
Comox Valley Art Gallery executive director Sharon Karsten said the holes are being drilled for the cement on Wednesday morning, in preparation for the totem poles.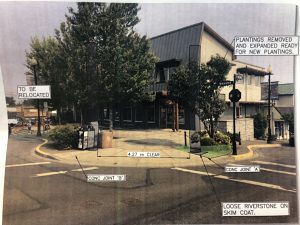 Karsten said the project has been in the works for about two years. In 2016, the gallery approached the K'ómoks First Nation's Chief and Council and asked for their participation in the project. From that point, the gallery applied for funding to make it happen and now it is coming to fruition.
"This project is so exciting for the gallery, for our community, and for the downtown," Karsten said.
Karsten said it is important to honour the fact that we are on the unceded traditional territory of K'ómoks First Nation, and to pay tribute to the people who have lived in the region for thousands of years.
Karsen said the 15-foot totems are something to behold.
"They are magnificent, so profound, so quiet and strong," she said. "There are similarities (but) they are not exactly the same as one another, but there is an echo that happens between them. They're designed to present a kind of entrance way that you walk through."