COURTENAY, B.C. – Bob Wells has been elected as the new mayor of Courtenay.
The former councillor said it's an exciting time, and he's looking forward to "bringing Courtenay into the future".
"The first thing I want to do is actually sit down and do a strategic plan with everybody, so that everybody can put out what their priorities are, and that's elected officials as well as staff," he said.
"This is so we can understand a lot of the stuff that happens, because eighty percent of the stuff that happens at city hall is done by our excellent staff, following regulations and getting stuff done. Our job is to help them get more stuff done."
Wells said one project currently in the works include the final adoption of cannabis regulations, so storefronts can apply to open shop in Courtenay.
"Beyond that right now, I don't think there's a ton of pressing stuff. I'm going to be sitting down with each of the councillor-elects, and find out where they see themselves in the machine – if they want to be at the (CVRD), if they want to be a rep at the library or anywhere else," he said.
"To me, right now it's about making sure everybody ends up where they want to be and where they're going to feel most productive."
Wells stated that he's leaning towards returning to the Regional District, along with returning councillor Manno Theos.
"At this point, we don't have anyone except Manno Theos (and Wells) who's been on the RD, so for that reason I think it's probably a good thing for me to be at the RD just to have that continuity and experience," he said.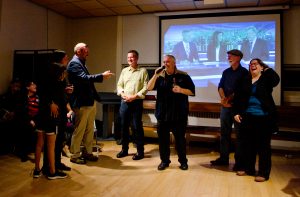 "We're also going to be reaching out and making sure we're working well with the K'ómoks First Nation, and they have their own election that's going to be coming up in the next few months so we want to make sure they can get all the support."
Wells thanked everyone that came out to vote, and those that cast their vote for him.
"It's been very overwhelming and humbling. Pretty much on a daily basis I'm thanking people either on the phone, with hugs, texts, Facebook messages or whatever it is. I feel that I had a lot of people that saw the vision that I saw," he said.
"I don't think I'm a very polarizing person in terms of wanting to zero-percent taxes or anything. I'm a centrist, I want to work with everybody because I think that's how we're going to get things done."
Wells also touched on the referendum question that was on the ballot, regarding a governance study in the Comox Valley.
RELATED: Courtenay votes YES to governance study question
"Especially for those of us who were at the Comox debate, you know, everybody basically said it's not going to happen now. As Comox's population grows, that's going to trigger higher costs in policing and other things, so that's going to make them maybe reevaluate things at that point," he said.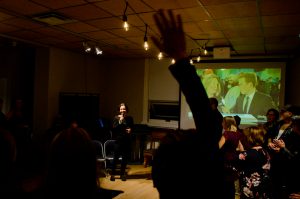 "I've pointed out time and time again, we have the regional district, we have shared services, we have the water committee, sewer, water, solid waste and all these things that we're already working together on. Again, it's not just about building a culture of collaboration and cooperation within the city of Courtenay, but it's extending that out to all of our local governments that are around us."
Wells' council will include new councillors Will Cole-Hamilton, Melanie McCollum, and Wendy Morin, as well as returning councillors Manno Theos, David Frisch and Doug Hillian.
-With files from James Wood