COMOX VALLEY, B.C. – Daniel Arbour is excited going into 2019.
Arbour is the director for Area A of the Comox Valley Regional District (CVRD).
Area A encompasses Royston, Union Bay, Buckley Bay, Fanny Bay, Denman and Hornby Islands.
The CVRD has kick-started strategic planning for the new year, according to Arbour. He released a list of possible projects the CVRD could undertake in 2019.
Arbour spoke with MyComoxValleyNow.com to discuss some of the plans.
"The big theme for the group is really sustainability. It seems to be high on the agenda for all the municipalities and the rural areas," he said.
"That might translate into new investments in transit, on things like air quality, looking at the organics that go into the landfill, if there's a way to divert that. Generally, I think the big theme is sustainability."
One of Arbour's proposals is a cycling/pedestrian trail along the rail line that would connect Union Bay with the community in Royston.
"I got appointed to the Island Corridor Foundation, and it's been a while that we've been trying to get (rail service) back in (on the Island) but a lot of people, if we can't put the rail back in, especially in our area (Area A), a lot of people would love to see some other use for the (rail) corridor," he explained.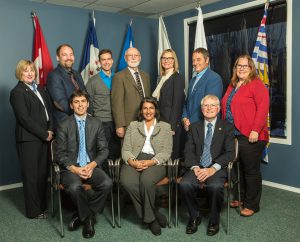 "A lot of places across North America have successfully transitioned their rail to a trail and amenity, so that might be something we look at in terms of the next few years here."
Arbour said that Courtenay has already invested in bringing their trail portion along the rail corridor.
He said on a personal note, he would be happy to connect Royston and Union Bay via a trail system.
"For me, the opportunity to connect Royston and Union Bay would probably be worth a look. I think there are a lot of people that commute from Royston and Union Bay, with the higher density population. They might see a benefit in having a cycling corridor or something like that into Courtenay," he said.
Arbour cited the City of Courtenay's "multi-model" transportation plan as an example of something the CVRD could implement.
"There seems to be some appetite to look at a regional plan to extend what Courtenay's doing, and look at how we can all plug in as a region to improve multiple ways of transportation," he explained.
Arbour added that his time with the CVRD has gone well so far.
"The happy surprise is how well everybody gets along at the board level, and sometimes you might have a little differences, but everybody's very constructive and forward (thinking). So far, it's (been) a very good experience for everyone involved," he said.
Anyone who wants to reach out to Daniel Arbour can contact him through his Facebook page.
He added that he plans on regularly visiting each community he represents.
"We're really looking forward to getting out there and discussing priorities for each of those (Area A) communities," he said.
"Happy holidays to everybody, and we look forward to working hard next year."
---
The following is a list of the possible Comox Valley RD projects for 2019, courtesy of Daniel Arbour:
"In December 2018 the CVRD Board started brainstorming possible projects for 2019. We will decide on new projects over the first couple of months of 2019. Feel free to send me feedback on any of the ones below, or other ideas you may have!"
1. Transit Enhancement and Investment – Regional: Continue to grow the service and ridership.
Area A Possibilities: Maybe look to expand service to Deep Bay for connection to Nanaimo District Transit? Consider having #10 loop into Ships Point? Continue Hornby/Denman Pilots?
2. Comox Valley Sustainability Strategy Score Card – Regional: the strategy was put together in 2010 – we may take the pulse on our progress towards our 2050 goals.
Area A Possibilities: Identify green investment priorities in Area A for future years?
3. Sewage for Area A Regional / Area A Possibilities: The board may continue to look at options in light of the failed 2016 South Sewer referendum. I hope we can find solutions!
4. Air Quality – Regional: work on strategies to improve air quality in the valley.
Area A Possibilities: Have more programs and policies that can make a difference in the rural context?
5. Regional Transportation – Regional: Possibly consider how to improve connectivity and infrastructure within and between communities (includes pedestrian, cycling, transit, gas cars, electric cars, transit, future of island corridor train track, etc…)
Area A Possibilities: Maybe look at ways to better connect Area A to the rest of the Comox Valley…trail on island corridor, etc?
6. Organics diversion – Regional: work with the Waste Management board to divert food and organics from the landfill?
Area A Possibilities: Perhaps not for 2019, but maybe investigate potential to add recycling pickup or transfer station in Fanny Bay/Union Bay area – a few were asking about this on the campaign trail.
7. Comox Valley Economic Development review – Regional: Five-year review of outcomes, and negotiation of new contract.
Area A Possibilities: Maybe local economic action plans for Baynes Sound communities?
8. Agriculture support review, plan, strategy – Regional: Renew efforts to grow food production in the valley.
Area A Possibilities: Include opportunities to look at aquaculture and support to farming on the islands?
9. Housing Needs Assessment – Regional: consider regional approach to housing solutions?
Area A Possibilities: Support efforts on the islands, and look for opportunities to grow affordable housing in Fanny Bay, Royston, and Union Bay?