COURTENAY, B.C- A dispensary could be coming to downtown Courtenay.
According to Kyle Cheyne, the owner of Leaf Compassion along 4th Street in downtown Courtenay, the businesses' application for a provincial license to sell recreational marijuana has been received by the city government.
Leaf Compassion has had a rocky history with Courtenay's government in the past, with the store-front raided twice by police after opening on 4th Street in 2017, and eventually being denied a business license by council last November.
Former Courtenay mayor Larry Jangula had attracted backlash after disagreeing with the company's plan, and received a death threat after the shop was closed in October.
Cheyne later endorsed current mayor Bob Wells in the recent municipal elections, and announced in September that they had applied for a retail license.
On Monday, Cheyne told the MyComoxValleyNow.com newsroom that the city has directed them to hold a public meeting to detail their plans to neighbours within a 100-metre radius. That meeting is planned for January 14th, 2019, at the Leaf Compassion site.
Cheyne invited everyone wanting to learn more about the proposal to come by the meeting, though attendees will need to sign in and sign out, as well as provide feedback.
He indicated he'll be there in person, as well as the company's store designer, as around $25,000 in renovations are being planned for the site.
"What it looks like right now is nothing like we plan to do," said Cheyne.
"We just haven't jumped the gun with that because we don't know 100 per cent if we're going to get a license or not."
Asked about what the business will look like after the renovations are finished, Cheyne stated that it will be similar to his Port Alberni dispensary, with new cedar furniture, a new reception desk, a new selling station, and custom-built displays.
He supplied images from the Port Alberni location, and stated that the Courtenay site would look the same on the inside.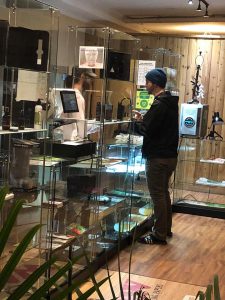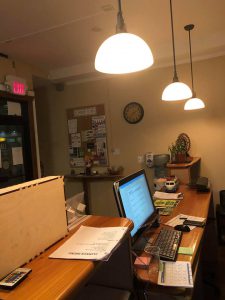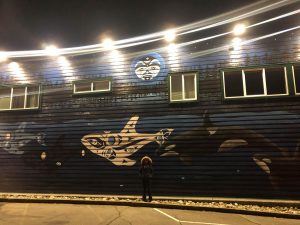 He also said he's hoping to put in a vented "inside-outside" patio, attached to the site, which would allow marijuana users to consume on the premises without impacting neighbours. That goal is secondary to getting the license for recreational sale.
Cheyne indicated that the desire for the patio is part of the company's "due diligence", and he believed it may not work for some locations.
"I really do hope that Courtenay understands that when people can get this medicine, and now for recreational purposes, there is really not that many options (to consume), so I hope we can get that as well," said Cheyne.
As for how the relationship between his store and the city is now, Cheyne was feeling positive, and emphasized a difference between the approaches of Wells and Jangula to cannabis retail in Courtenay.
He also described the city as a "very interesting situation", in previous years.
"Everyone who has ever tried to challenge it over there has been shut down, like we did when we tried to open up," said Cheyne.
"We've just been hanging on, and we hope that the municipality and the council and the community see on Jan 14th that we are great people, and we're just trying to do our best."
According to Cheyne, there are four applications into the municipal government for marijuana retail in Courtenay at this time.
Council will eventually have Leaf Compassion's application in front of them. No other marijuana retail applications have come to council chambers since legalization.
The business is currently open five days a week, Monday to Friday, as a resource centre.