WATCH:
RCMP arrested 14 people at the Gidimt'en checkpoint near Houston, filing an injunction for the Coastal GasLink pipeline.
As the gate was dismantled, fires were set by campers & large trees were cut down in an attempt to block police from going further.
Officials list 'various offences' among those taken into custody, including alleged violations of the injunction order.
The checkpoint had been set up since December 15th, 2018.
COMOX VALLEY
Meanwhile, in the Comox Valley, a "peaceful gathering" was held outside the offices of MP Gord Johns and MLA Ronna-Rae Leonard.
Wayne Bradley, who helped promote the rally, said "hundreds of people" attended.
"(It was) a pretty spontaneous demonstration in support of the Wet'suwet'en people who are standing to protect their traditional territories in the north of B.C.," he said.
"It (the turnout) shows the depth of understanding that a lot of people are starting to develop and the commitment to having a new way to deal with resource development issues in particular in this province."
Members of the Comox Valley RCMP were at the 5th Street site, but the gathering remained peaceful.
Bradley asked Courtenay-Comox MLA Ronna-Rae Leonard to "stand by her beliefs and leave the caucus".
"There's too many situations, which I know she doesn't agree with what the government is doing…and it's time she took a stand as a representative of this community and not as a representative of the NDP," he said.
"She should leave the party, leave the caucus and sit as an independent and represent our voices there."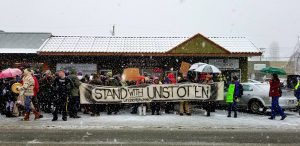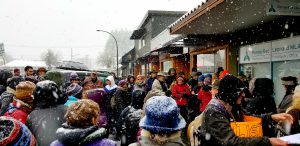 – with files from Sawyer Bogdan, My Bulkley Lakes Now & Justin Goulet, My Comox Valley Now