COMOX VALLEY, B.C. – A Comox Valley teen and his mom are thanking The War Amps for making a huge difference in their lives.
Fourteen-year-old Elijah Sulz is a right leg amputee who has been involved with the organization since he was a year old.
Elijah's mom Caterina said if it wasn't for the War Amps, she would only be able to afford the most basic leg prosthetics for her son who, despite being born missing his right leg below the knee, is involved in baseball, basketball, and martial arts.
"There would probably be times where he would have to go with smaller legs, not get new legs in time, because I'm really, really low income. Basically they have provided all of his needs his whole life," she said.
Caterina added, "They cover way more than what the provincial government covers. He wouldn't be getting any sports legs, he wouldn't be getting any backup legs and things like that, that he gets from The War Amps, that have been so imperative in everyday life, all his life."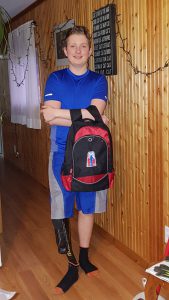 The War Amps have also provided emotional support while helping to facilitate social connections for Elijah over the years, according to Caterina.
"Elijah's made a ton of really good friends over the years, they pay for us to go down to Victoria and do seminars or Vancouver, depending on where the seminar is, they cover all expenses and treat us to an amazing weekend of comfort, food, and lots and lots of learning," Caterina said.
Elijah said contributions from The War Amps have given him "a lot more freedom."
"I don't know what I would do without them," he said. "They have helped a lot with all the prosthetics and support with whatever I have problems with."
Caterina said without The War Amps, her son would have a "way lower quality of life."
"He'd have more pain because he'd be in legs that don't fit anymore, and he might have given up on some of his sports, depending on if he was uncomfortable," she said. "It's been amazing for me to see.
"It's unbelievable, the difference each new leg makes, each new foot in his abilities."
Key Tags service benefit child amputees
This marks the first week that the War Amps will begin mailing key tags to households across the country.
Each key tag has a confidentially coded number.
If you lose your keys, the finder can call the toll-free number on the back of the tag or place them in any mailbox, and The War Amps will return them to you by courier, free of charge.
"We've returned 1.5 million sets of keys (through the years)," said War Amps public awareness officer James Jordan.
"The people who see value in it, they might donate $10 or $20, so when we return the keys, they do come with a donation form. There's no obligation. You already have your keys back. But a lot of people say, 'Wow, that's a great service, it really works, so I'll support that.'"
Those benefiting from the program often donate to The War Amps, with proceeds going to support child amputees such as Elijah.