COURTENAY, B.C- Courtenay's city council could be sending fossil fuel companies a letter in future.
Today. a delegation is coming to council from the Dogwood Initiative, a non-profit based in British Columbia, which advocates for support for environmental causes.
Presented by Andrew Gage, a lawyer with West Coast Environmental Law (WCEL), it's asking Courtenay to join with other municipalities in sending a "climate accountability letter" to twenty of the largest fossil fuel companies in the world, which asks them to pay for climate-change related costs in the letter-sending communities.
"Our team of supporters and volunteers in Courtenay is concerned by both the lack of action displayed by federal and provincial governments to prevent climate change, as well as the costs local taxpayers will pay to defend our community from present and pending effects of climate crises," wrote David Mills, a staff organizer for the group, in a letter attached to council's agenda for today.
"Therefore, we have unanimously decided to partner with WCEL to promote and support the intent of their "Climate Law in Our Hands" campaign, which is to unshoulder local taxpayers of the total burden of climate change mitigation and adaptation."
Mills' letter states that sixteen local governments in B.C have decided to send letters.
In part of an introduction to the campaign attached to the agenda after the letter from Mills, there is a "question and answer" style section dealing with whether or not such an action is a local government responsibility.
It argues that the costs faced by municipalities and regional districts related to climate change are happening now, and will continue.
"Prudent management of their financial resources requires local governments to at least consider the possibility that some of those costs can be recovered from fossil fuel companies and, if appropriate, to take steps to do so," reads the introduction.
It also deals with the role of individual people when it comes to climate change, after mentioning three mayors telling WCEL that if people use fossil fuels, they can't ask for the industry to be held accountable.
"We are not denying that individuals play a role in reducing their own greenhouse gas emissions (while recognizing that the options available to individuals to entirely eliminate their fossil fuel use in today's society are limited)," reads their response.
"Nor are we suggesting that fossil fuels could be eliminated tomorrow. What we are suggesting is that the responsibility of fossil fuel companies is at least as great as that of the individual, and they should pay their fair share of the costs. We are further suggesting that one the industry realizes that it may be required to pay its fair share, there will be a powerful incentive for the system to change–creating more options for individuals seeking to reduce their greenhouse gas emissions. This is a crucial step in helping society as a whole move away from gas-powered vehicles (and uses of fossil fuels involving combustion)."
The documents also state that sending the letter does not mean Courtenay is signing up for a lawsuit. Rather, it's "simply initiating a conversation" about the role fossil fuel companies play in causing climate harm to the community.
A draft letter is included, which can be viewed below.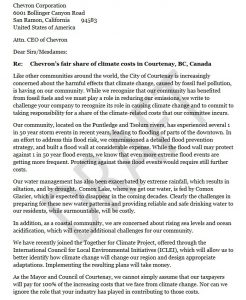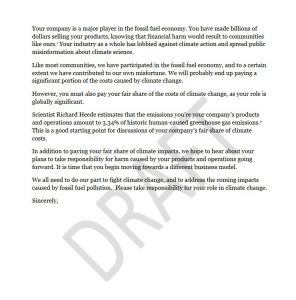 It remains to be seen what council will think of the delegation's request.