NORTHERN VANCOUVER ISLAND, B.C. – Compared to last year, sales of single family homes in the Comox Valley and Campbell River slumped in February.
A total of 31 homes changed hands in Campbell River last month, marking a 21 percent decline from February 2018, when 39 homes sold in the city.
In the Comox Valley – including Courtenay, Comox, and Cumberland – 38 homes sold in February, signifying a 24 percent drop compared to last February, when 50 sales were completed.
Comox Valley realtor and Vancouver Island Real Estate Board president-elect Kevin Reid said tighter mortgage rules have impacted homebuyers on the North Island.
"The stress test, the B-20 mortgage rules have had quite a big impact," Reid said. "Those are rules that are making it more challenging for high equity buyers to arrange mortgages, and it essentially decreases their buying power."
But that's not the only factor at play, according to Reid.
"Probably the most interesting market effect right now is there's still a shortage of homes on the market which is keeping prices up," he said.
As a result, it's an issue of supply overshadowing demand.
"Statistically, we're considerably down (regarding housing inventory)," Reid noted.
"For the last 20, 30 years in the Comox Valley we've had, say, 600 homes for sale at any given time. I think right now we're down to about 360."
This has been the trend for the past couple of years, which leads Reid to believe that this may be the new normal.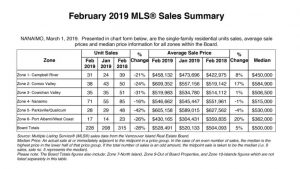 Meanwhile, if you compare January to February, however, sales edged up in Campbell River (24 sales in January compared to 31 in February) and dipped in the Comox Valley (43 in January, 38 in February).
Meanwhile, house prices are heading in opposite directions in the North Island.
The average price for a single family dwelling in Campbell River in February was $458,132, down from $473,696 in January.
In the Comox Valley, houses went for, on average, $609,352, a bump up from January when the average house price was $557,156.
Looking year over year, house prices jumped eight percent in Campbell River, and were up by 17 percent in the valley.
Reid said the home sales graph resembles a heartbeat, and "we are definitely in the upstroke of the heartbeat."
By that he means as temperature warms up, usually so do home sales.
"There are fewer transactions that happen in the winter and then they build in spring and summer and then they step down to the winter again," he said. "So we're definitely on the upstroke of the buying heartbeat."
Across Vancouver Island, sales of single-family homes in February dipped by 28 per cent year over year but were up 10 per cent from January.
The British Columbia Real Estate Association believes the negative shock to affordability and purchasing power created by the mortgage stress test (Guideline B20) is expected to impact housing demand throughout B.C. this year, cutting the homeownership aspirations of many millennials off at the knees.
According to a release from the Vancouver Island Real Estate Board, "while population demographics on Vancouver Island have offered some protection from B-20's negative fallout, VIREB's housing market has not emerged unscathed."
"The stress test is reducing demand for higher-priced properties and pushing buyers towards less expensive homes, which in turn is compressing the lower end of the market," the release notes.
VIREB president Kaye Broens said sellers need to realize the glory days of 2016 and 2017 are over.
"We're seeing a clear disconnect between buyers and sellers," Broens said. "Many people still want to list their homes at 2016 and 2017 prices, and that just isn't realistic."