COMOX, B.C. – An open house/workshop on future improvements to the Mack Laing Nature Park and the fate of Mack Laing's former home, 'Shakesides,' stirred up strong opinions on Wednesday night.
Residents with a vested interest in the park filled a room inside the Comox Community Centre during a town council committee of the whole meeting.
The purpose of the workshop was to consider future improvements to the park, including the potential use of money given in trust to the town by Mack Laing in his will.
The Mack Laing Trust has been a polarizing issue for decades.
In 1973, Laing deeded his property and home to the Town of Comox.
In 1982, Laing also gave, in trust, the residual cash from his estate to the town. The trust fund currently sits at $256,000.
Since 1983, the town has operated the nature park, adding trails and interpretive signs to foster the public's appreciation of nature.
The town rented out Shakesides until June 2014. And between 1982 and 2000, the town spent some of the trust fund to maintain 'Shakesides,' improve the park, and memorialize Laing.
Council has recently decided to move forward the town's court application to modify the trust applicable to the money.
The town's original proposal to the court was to disassemble Shakesides and use the money to construct a viewing site/platform in its place.
The current proposal for the viewing platform, in its preliminary stages, is that it would be a steel structure for protection against fire, and it would also be strong enough to withstand strong winds.
It would be an open air structure with a partial roof. The structure would have the exact same dimensions as 'Shakesides.'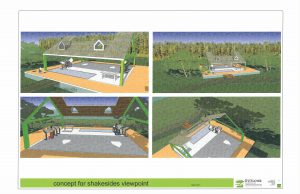 Before asking the court to accept this proposal, council members wanted to hear ideas from the public for the park that, according to a release, "would increase public recreational enjoyment and continue to honour the conservation and education goals laid out by Mack Laing."
Those attending the meeting were given comment sheets that included questions such as
What are your initial thoughts of what is currently being proposed (viewing site/platform)/
What specifically do you like? and
Do you envision something different? If so, what?
Wednesday's meeting included members of the Mack Laing Heritage Society (MLHS) who want to preserve 'Shakesides' and convert it into a nature house.
Attendee Ken McDonald questioned the format of the meeting. "I'm a little disappointed in the workshop tonight. My understanding in coming here was that there were two competing visions. There is the vision of the Mack Laing Heritage Society to restore 'Shakesides,' they've got some funding for that, they've got volunteer contractors and people contributing to that exercise."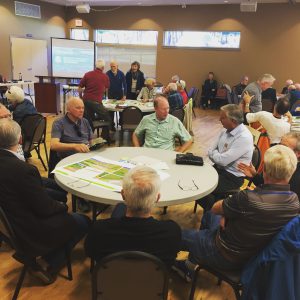 McDonald said the viewing platform is just one side of the issue, adding that he respects the vision of those who want to preserve Laing's former home. "Their vision is to try to restore and retain a very important cultural heritage site in our community, and I think both visions are valid and both visions ought to be represented, and people that are here tonight, ought to be able to see both visions and make a decision around both visions. I don't think it's correct for you to simply represent one vision."
Mayor Russ Arnott responded by saying that the goal of the workshop is to move forward, noting that council has voted to move forward with the modification of the trust, with the goal of gathering public input on what that modification will look like.
"To go backwards is not where we are tonight," Arnott said.
Attendees with opposing opinions on what to do with 'Shakesides' sat side-by-side at some of the tables.
Ernst Vegt said he believed the viewing platform would be a good alternative to "keeping a very sad building there."
"I think it's probably not salvageable, so I think this is a good second alternative," Vegt added.
Glenn Lawson disagreed: "I'm not in favour of it. I think the town should be investing in its heritage and restoring 'Shakesides,' and giving this town a bit more character. I think that would really honour Mack Laing's will and his trust. And I think it's a doable thing."
Lawson doesn't believe the platform comes close to achieving what Laing would have wanted.
"I think actually doing the natural history museum, with a live-in caretaker, would be functional, would work. And there's a lot of people in this room who would put money and talent into supporting that vision."
The town will be accepting public input until March 29.