CAMPBELL RIVER, B.C. – Sheryl Thompson is on a mission to help enrich the lives of young people living on the streets of Campbell River.
Helping others runs through her blood. Thompson was an ardent cheerleader for her 11-year-old grandson, Sylas, who recently raised nearly $38,000 for local charities by doing daily polar bear swims.
More recently, Thompson helped find work for a group of young homeless people during a Campbell River Motocross race weekend.
On the 'Campbell River Rant, Rave and Randomness Facebook Page,' she posted a "huge rave" to Ed Masters of Campbell River Motocross. The group was employed as flaggers to ensure the safety of the riders.
"He hired some of my friends who are on the streets. He contacted me for workers and I found some. Apparently Ed Masters has connections with these people from way back," she said in the post.
"They spent two days flagging and lunch was served. And with all of that I have made deeper connections with these homeless kids. They give me so much in return it would take paragraphs to explain. I dropped them off last night and they left me with feelings of hope and being loved."
Masters responded on the post: "And big thank you to you Sheryl for bring them out to work for the Motocross club and a hug thanks to you for going and finding a couple of more for us when one could not make it due to medical reason(s) and one that did not show. I look forward to working at our next race with you and all the crew that you brought out. All the flaggers did an awesome job. I heard from lots of the riders as well as many parents that you were doing a fantastic job. Thanks to all of you."
Thompson said the group put in a lot of hours, from 9:00 a.m. to 4:00 p.m. on the first day and 8:30 a.m. to 4:00 p.m. on the second day.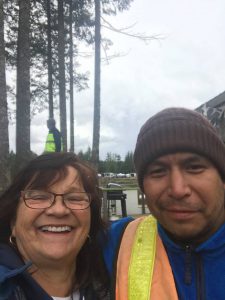 'Homeless, yes, hopeless, no'
Thompson spoke about how the connection happened.
"I'm a teacher of native language," she said. "So a former student of mine was posting on Facebook and she was talking a lot about death and not wanting to be around."
Thompson found her on the streets of Campbell River, and began seeing more of her former students hanging around downtown, as well.
"Homeless, yes, hopeless, no," Thompson said.
So she arranged gardening jobs for the teens.
"I was thinking I can feed, clothe and house them but that's not enough; it's about self-esteem," Thompson said. "When you start feeling good about what you're doing and where you are, then you can progress."
A Facebook post from Thompson caught the eye of Ed Masters of the Campbell River Motocross Association.
He told Thompson that he had four job openings for a recent race weekend.
"So I went around and asked, 'Who wants to do this two-day stint?' And so Ed had already had contact with some of these students, as well, but I brought four more," Thompson said.
"I had to go and get more (teens) because some didn't show, but not my group. I was happy to say that they followed through," Thompson said.
Over the two days, Thompson sacrificed her time to chaperone and oversee the homeless youth involved in the work.
"I just wanted to say thank you to Ed because of what I'd seen with these kids," he said.
Thompson said the teens give her hope because she was worried that they weren't going to show up.
"When I arrived the next day at 7:30 (in the morning), they were there," she noted.
Thompson realizes that money that the young people made has likely already been spent.
"That's the territory," she said. "I let the Creator guide me into what to do. It sounds mybe silly but that's the way it is."
She said it was a stressful but ultimately rewarding experience.
"They do come up to the plate – some of them," she said. "They had to commit for two days and this one kid, the next morning, he's in his tent and he said 'I've got a doctor's appointment.' And I said, 'bull***t, get out here! You committed!' I do the tough mom talk but it's all with love and respect. They go hand-in-hand."