– Files from James Wood
COURTENAY, B.C. – A truck slammed into a power pole along Cumberland Road, just past the intersection of Piercy Creek Estates this afternoon.
The Courtenay Fire Department responded and deputy chief Dennis Henderson provided details.
"At approximately 2:10 this afternoon, we went to a single-vehicle motor vehicle accident on Cumberland Road. A truck went off the road and sheared a power pole."
When crews arrived, the driver was out of the truck and appeared to be uninjured, according to Henderson.
"The hydro lines were still intact and suspended by the other two poles, and our involvement was just to mitigate the accident scene from any other dangers such as leaks, fluids, spills, etc."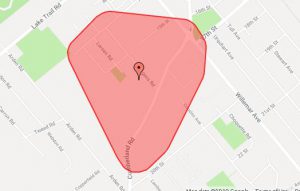 According to BC Hydro, the accident has caused a power outage south of 13th Street, North-East of Arden Road, and west of Choquette Place.
A total of 245 customers have been affected.
No other vehicles were involved in the accident.