– Files from School District 71
NORTHEAST VANCOUVER ISLAND, B.C. – High school students from Campbell River and the Comox Valley showed their skills on the mainland last week.
Held in Abbotsford on April 17, the Skills Canada Provincial Competition brought together more than 600 student competitors from across B.C. in diverse skills and technology fields, to compete in 58 categories such as welding, baking, graphic design, electronics, and robotics.
In 3D animation, Timberline Secondary's Ben Bellosillo captured the gold medal.
Two G.P. Vanier Secondary students – Jacob Walter for electronics and Tyler Wenmann for graphic design – captured gold in their respective fields of expertise, thus qualifying them for the national level competition in Halifax.
Comox Valley students performed impressively in other competitions as well including welding, and robots.
Arlo Richardson, Reele Morrison and Hamilton Embree of Highland Secondary captured gold, silver and bronze respectively for Jr. Sumo Robotics.
Two teams from Highland captured first and second, respectively, in Robotics VEXIQ. They included Branwen Ackroyd and Liam Rendell (gold), and Vivianne Lemay and Thai Murray (silver).
The bronze medal was won by a team representing Mark R. Isfeld Secondary – Noah Doeschner-fretts and Zeke Gregory.
Evan Barker of Vanier took home the silver for his trade skills in welding.
Skills Canada competitions at the regional, provincial and national level serve two main purposes, to celebrate and reward students for excellence in their mastery of skilled trade or technology skills, and to create an interactive and engaging environment for the thousands of students who attend the competitions.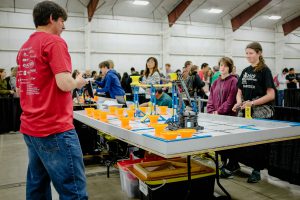 Skills Canada BC 2019 Provincial Winners included:
2D Animation (Sec)
Silver – Josh Wouters, Timberline Secondary
Silver – Chloe Schofield, Timberline Secondary
3D Animation (Sec)
Gold – Ben Bellosillo, Timberline Secondary
Gold – Owen Knudsen, Timberline Secondary
Secondary electronics
Gold – Jacob Walter, GP Vanier Secondary
Graphic Design (Sec)
Gold – Tyler Wenman, GP Vanier Secondary
Jr. Skills Robotics VEXIQ
Gold – Branwen Ackroyd, Highland Secondary
Gold – Liam Rendell, Highland Secondary
Silver – Vivianne Lemay, Highland Secondary
Silver – Thai Murray, Highland Secondary
Bronze – Noah Doeschner-fretts, Mark R. Isfeld Senior Secondary
Bronze – Zeke Gregory, Mark R. Isfeld Senior Secondary
Robotics (Sec)
Silver – Evan Claassen, Mark R. Isfeld Senior Secondary
Silver – Kyle LeBlanc, Mark R. Isfeld Senior Secondary
Welding (Sec)
Silver – Evan Barker, GP Vanier Secondary