UNION BAY, B.C- Union Bay's annual general meeting won't be happening tomorrow night.
According to a letter issued by the chair of the Union Bay Improvement District trustee board, Ted Haraldson, the community's annual general meeting (AGM) set for 7:00 p.m. on Thursday at the community hall has been postponed after a disruption to a committee of the whole meeting on Tuesday afternoon.
Haraldson's letter states that landowners had attended the meeting to purposely disrupt it. It had been intended to swear in newly-elected trustees Paul Healey and Hein Vandenberg, and discuss the results of UBID's 2018 audit in a closed meeting prior to the AGM on Thursday.
Both Healey and Vandenberg chose to sworn in after the AGM, according to Haraldson.
The disruption on Tuesday was captured on tape by Union Bay resident Mary Reynolds, and discussion in the recording indicated that things started going wrong when trustee Susanna Kaljur and other landowners disagreed with administrator Gordon Mason about the timing of the swearing in.
According to the dialogue in the recording, Healey and Vandenberg had thought it improper to be sworn in before the AGM was held, with Kaljur and Mason arguing about the exact timing of an "inaugural meeting" for the board.
The rules about inaugural meetings, according to Union Bay's own bylaws, follow below: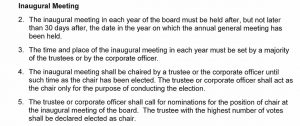 Reached for comment on Wednesday, Healey indicated that both he and Vandenberg hadn't wanted to start off their time on the board by contravening a community bylaw.
The dispute on Tuesday derailed the whole meeting.
According to Haraldson's letter, "violent outbursts occurred between trustees and landowners attending the meeting". Three staff members of the district had to leave the office, and the RCMP were called.
"For the safety of landowners, trustees, staff, and consultants, we have decided to cancel the AGM," wrote Haraldson.
"It will be rescheduled at a future date, after I have had an opportunity to have discussions with the ministry to move UBID forward to an environment that promotes safety for all stakeholders to attend public meetings. I will be suggesting to the Ministry (Municipal Affairs) a facilitator be appointed to chair and moderate the AGM meeting".
All reports from the AGM, including the chief administrative officer report, public works report, fire rescue services report, and Union Bay's audit for 2018 will be posted to the district website.
"The issue of forceful outburst and disruption of UBID Public Meetings has been ongoing for the past decade and the public meeting environment has to improve for the landowners of Union Bay."
Haraldson spoke with the MyComoxValleyNow.com newsroom about the postponement.
"The whole idea of having them sworn in prior to that at a COW meeting, the purpose of that was so they could sit down, and listen to the auditors report, and get filled in, so when it took time to come in and be trustees, they would have an idea of the audit and etcetera, what was going on, so they would be more prepared for the AGM," said Haraldson.
"That was the reason for that, and that's about it."
He said that what happened at the Tuesday meeting was unfortunate, but he was concerned that a public meeting could be a safety issue.
"There is no way that I want people to turn around, and start fighting in the aisles, and all this stuff going on," said Haraldson.
Asked if he actually believed that would happen, he indicated that he did.
"Yelling is one thing, but it could get to the point where people could get into a frenzy, and then all of a sudden, someone could get hurt," said Haraldson.
"And I don't want to see landowners or anyone end up being hurt, at all."
As for how the Tuesday meeting could have gone better, Haraldson didn't see a way, saying that "these people" had come to the meeting to disrupt it on purpose.
"This has happened a number of times, and it's the same individuals," said Haraldson.
"It's very unfair. As I say, Hein and Paul were elected, they had a good election, they won heartily, and I am ok with that. We need trustees to come in, and go to work to get the things done that need to be done."
He went to talk about the community's new water treatment plant, describing it as "completely finished" with permits and approvals finished, and a "done deal".
"But again, there are other things that need to be done, and we need trustees to stand up to the plate and go to work," said Haraldson.
"I have no problem with Paul and Hein becoming trustees. I'm hoping that we can all work together to get the jobs done that are necessary. That's what it's all about."
He also discussed a governance review, which both Healey and Vandenberg had been advocating for during their campaigns. He stated that the province's municipal affairs department wanted the plant to be "complete and operational" before a governance review could be considered.
"Of course, we need a governance review," said Haraldson.
"That's going to happen, it has to happen, I have no problem with that either, but I am just following the ministry and what they said."
He indicated that he's hoping to speak with Municipal Affairs very soon. As for the AGM, he provided no timeline for when it would be re-scheduled.
The police that were called to Tuesday's disruption left without incident.