COURTENAY, B.C- A neighbourhood in western Courtenay was a wide spread crime scene this evening.
According to multiple eyewitnesses, just before 5:30 p.m., a man in the area close to the intersection Joshua Place and 13th Street got into an altercation with his partner. After that altercation, he got into a vehicle and drove at high speed into at least two parked vehicles at a home nearby, with one hitting the structure.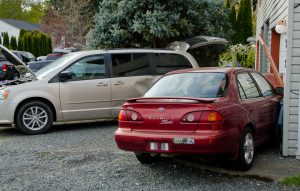 After that crash, he drove at high speeds towards 13th Street, striking a third vehicle on the road.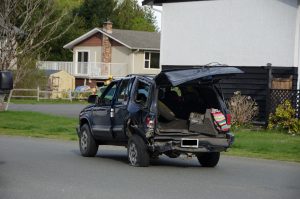 He then ended up driving into a house at the corner of 13th Street and Larsen Road.
The driver then exited the vehicle, and ended up in another altercation with at least two men who were trying to restrain him.
One of the men, Dennis McLeod, had been making dinner when he heard his wife screaming from the road outside. One of his vehicles had been struck in the incident.
"I ran out, and it looked like somebody had dropped a bomb off here," said McLeod.
After hearing more screaming from down the street, where the driver had struck the home. He ran down there, and saw the driver run across the street and attack another man along the road.
"I grabbed him, I started pummeling him, trying to get him down, trying to get his arm behind his back, and he would not go," said McLeod.
"Another gentleman helped me out, and we got him down on the ground and waited until the police arrived."
In the process of restraining the man, he stuck his fingers in McLeod's mouth.
"He tried to twist my jaw, so I bit him," said McLeod.
"And I was pummeling him. He went on, 'kill me, kill me, kill me', that's all he was saying. That was it. I got another guy to help me out, and we got him turned over until the officers arrived. That was it."
He'll be taking himself to hospital after getting banged up during the incident, and said he needed a couple of stitches.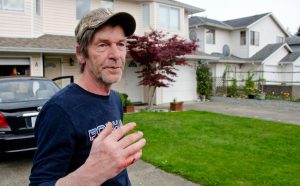 "He (the driver) was hurting himself, he was not in his right mind," said McLeod.
"He attacked a gentleman just walking down the street, just walked over and grabbed him, started hitting him. That's when a couple of us went over to help out."
McLeod was feeling good after assisting to restrain the man.
"This is Joshua Place," said McLeod.
"We take care of our own."
Police at the scene confirmed that the man is in custody. More information about the incident is expected as soon as police are able to comment in detail.