COURTENAY, B.C. – Karver Everson has made his artistic mark on Mark R. Isfeld Secondary in Courtenay.
The First Nations artist was approached by the school to create their new logo, which was highlighted at a ceremony Monday.
"I was ecstatic and I am so blessed that SD71 has been fostering good relationships with First Nations," Everson said during today's unveiling. "I think this is a really good example of what that partnership and cohesion that we have created."
The original logo was similar to a polar bear Everson says, but he put a First Nations touch on it.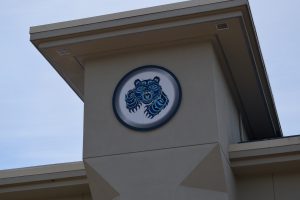 "I tried to make it a little more like a black bear, a bit more like something that you'd see here and paying respects to the animals and the history that's in this territory, and not from somewhere else," said Everson.
"I took that concept and then I injected it with Indigenous iconography and design."
The Highland Secondary alum's artistic footprint can be seen across the Comox Valley School district, as he has created two totem poles for Courtenay Elementary, and designed the logo for Queneesh School.
He added there are more projects in the works throughout the Comox Valley.
"There are also talks about some other logos that I'm doing in town, too, for schools, so I'm really excited and grateful to have that opportunity to do logos for a lot of schools and it's nice to see them acknowledging that history and acknowledging First Nations here," Everson added.