CUMBERLAND, B.C. – Someone has desecrated the tombstone of a renowned labour activist in the Comox Valley.
Carlos Flores told the Comox Valley Record that the red hammer and sickle on the head of Ginger Goodwin's tombstone had been completely removed, with what he believed was acid.
Cumberland Mayor Leslie Baird expressed her disappointment about the vandalism at the Cumberland cemetery.
"It was very upsetting to hear that somebody would desecrate somebody's grave," she said.
Goodwin was part of the coal miners' strike on Vancouver Island from 1912 to 1914, and has been acknowledged as playing a prominent and fundamental role in the growth of the provincial labour movement.
He was shot and killed by a police officer in Cumberland in 1918.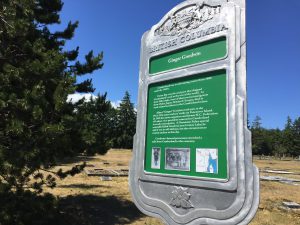 Miners Memorial
The act of vandalism happened ahead of this weekend's Miners Memorial.
Last year's Miners Memorial saw hundreds gather to honour the 100th anniversary of Goodwin's death.
In addition to music, workshops, graveside ceremonies, and art-making projects, Miners Memorial featured the re-creation of Goodwin's funeral procession, based on the photo taken on August 2, 1918 by Ken Hayashi.
This weekend's event, the 34th annual, gets underway today and runs until Sunday and celebrates workers and their families, with a call for a renewed commitment for safe and healthy workplaces.
Saturday's schedule includes tours, the laying of roses at the Japanese-Canadian Cemetery at 11:00am., and a ceremony at Goodwin's gravesite from 12:00pm to 1:15pm. This event will also include a rose ceremony on the graves of the fallen miners at Miners Row.