COURTENAY, B.C. – Comox Valley Search and Rescue is sounding the alarm about a dangerous tree in the Puntledge River.
The danger is so acute, swiftwater coordinator Mike Bryan held a media conference on the banks of the river this afternoon.
He said the cottonwood tree fell into the Puntledge River on Sunday and is posing a danger to all who come across it.
The tree is almost river-wide and is just downstream from Puntledge Park.  Bryan noted that while there is a way to walk around it to the right, the river flow pushes tubers and swimmers to the left and directly into the path of the tree.
That means if you are not paying attention and tubing along blithely in the current, you will be taken right into the tree.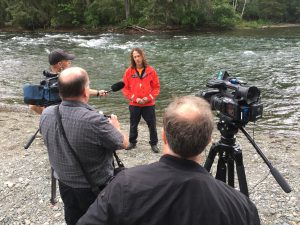 There is water pouring over top and underneath the tree, and several people have already gone underneath it and barely escaped.
Bryan said Comox Valley SAR is very concerned about the tree.
"We want people to be aware (of the tree)," Bryan said. "Our biggest takeaway is we'd like people to just come out here, at Puntledge Park, and not go down that part, but if they do, just be aware and walk around on the right-hand side as you're facing downstream."
Bryan also used the warning as a springboard to offer safety tips in and around the Puntledge River.
"This isn't an amusement park," he said. "This is a natural river, so there's nobody patrolling it, there's no lifeguard on duty and you're also fairly remote. Even though you are close to the city, by the time first responders can find you, access you, it takes time. Really, you want to think about who's with you and if they're going to be able to help you."
He added that there are literally hundreds of trees between Puntledge park and the hatchery that could come down.
"We may know about this one, but there may be another one tomorrow, or the next day, or the next week," he said. "So when you're on the river, we really want people to be aware and be cognizant of their surroundings."
He suggested that people use paddles to help steer clear of natural obstacles and to wear PFDs.
"You are at the mercy of the current a lot of times the current is going to take you right into the hazards," he said. 
Another key: staying sober. 
"If you're not sober and you're trying to make decisions quickly, or you're trying to rescue your companions, it could turn into a very bad situation."