COURTENAY, B.C. – It was a rough day for arborists.
Cumberland and Courtenay firefighters were called to two separate incidents involving arborists on Thursday.
Courtenay Fire Department members responded to Cessford Road, to carry an injured tree arborist from the bottom of a cliff.
The call came in for a BC Ambulance assist at about 12:30pm.
Courtenay Fire Department Captain Jonathan Welsh says the arborist fell roughly 50 feet.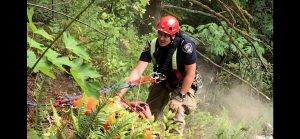 Welsh said a technician crew was sent down to the stranded worker who hurt his leg and couldn't walk.
"Crews packaged the patient and we used a mechanical rope advantage system to raise the patient plus the rescuers back up from the riverbed," he said.
Welsh said the worker was very lucky.
"He fell from quite a height and was lucky to have, what looked to us, as a minor leg injury."
Meanwhile, Cumberland firefighters treated an injured arborist who was caught 50 feet up a tree on Kentwood Road.
Cumberland Fire Chief Mike Williamson said the arborist was helped off the tree by a colleague.
"That (kind of rescue) is a little bit out of our scope," Williamson said. "We do rope rescue but not high angle like that. So I called Courtenay (Fire Department) to bring their ladder truck so we could maybe get him down that way. But what happened in the end was his buddy went up and roped him down."
Williamson says the arborist's own rope cut his upper left arm. Firefighters provided medical assistance before the man was taken away by ambulance. "We made sure the bleeding was controlled and got him on oxygen and transported him out to the ambulance on the road."