The Pacific Salmon Foundation has donated funding for six salmon projects in the Comox Valley area.
The funds came from the foundation's Community Salmon Program and were sponsored by Mosaic, the timberland manager for TimberWest and Island Timberlands.
The money will help BCIT and SFU masters student Kate O'Neill, as she works with the Tsolum River Restoration Society to monitor water temperature changes and possible influences of cooler groundwater in the Tsolum River.
O'Neill says the funding will greatly help her ability to complete the study.
"My main issue actually was equipment…the temperature loggers that I'm using are about $180 each."
"The money that the Pacific Salmon Foundation granted us was to purchase some of these temperature loggers, and without those, my study would be a lot more limited."
The project is co-funded with the Pacific Institute for Climate Solutions that also donated $10,000 to the project.
O'Neill added that studying the water temperatures now could help prepare for the future.
"This study is important just to be able to identify these critical areas that they need to survive, and then these areas can hopefully be identified, protected, and restored in the future."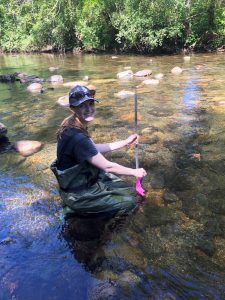 Four other projects in the Comox Valley-area also received funding.
The Stream of Dreams classroom education program at Aspen Park Elementary.
The Roy Creek Salmonid Enhancement Society received funding for the restoration of in-stream habitat in Roy Creek.
The Oyster River Enhancement Society got money for the installation of holding pens to increase the production of four different salmon species at their hatchery.
The Little River Enhancement Society received two grants to improve hatchery operations and restore almost 2,600 square meters of in-stream habitat to support Chum and Coho salmon, as well as Steelhead and Cutthroat Trout.