There is a new man in charge at 19 Wing Comox.
He is Colonel Dany Poitras. Poitras assumed command from Brigadier-General Mike Atkins during a parade and ceremony at 19 Wing Comox today. The national anthem was sung by the Canadian Military Wives Choirs Comox. This is the first time that one of the Canadian Military Wives Choirs has been involved in a change of command Parade.

Poitras comes to 19 Wing during a turning point for the base with the 418 Squadron being reformed as a search and rescue operational training unit.
"A lot of projects coming on, a lot of change, and it's really exciting for me coming in as a new commander and I will surely work really hard to deliver on those projects," he said.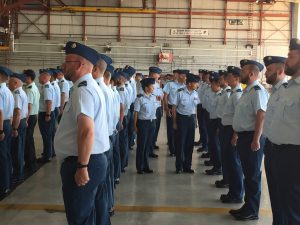 This is Poitras's 11th move and sixth province in his military career.
Originally from Joliette, Que., Poitras joined the Canadian Armed Forces in 1996 and was awarded his pilot's wings in 1999. 
He spent the first half of his military career flying the CH-146 Griffon helicopter. 
His experience with 1 Wing included two rotations in Bosnia and one deployment with the Canadian Helicopter Force Afghanistan.
In 2009, he made the official transition to the search-and-rescue (SAR) community with a posting to 413 Transport and Rescue Squadron in Greenwood, where he took over as Cormorant Flight Commander qualified on the CH-149 Cormorant helicopter and subsequently became the Deputy Commanding Officer.
Poitras was promoted to his current rank in 2018 and was appointed as Director Western Hemisphere Policy in Ottawa, prior to coming to 19 Wing.
"Let's face it, I'm coming from pretty much all over the place right now. I've done tours in pretty much most of the provinces, but born in Quebec," Poitras said.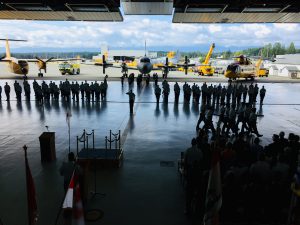 Poitras says he is looking forward to his next challenge.
"There are significant changes. Replacing two fleets with one is not an easy challenge."
Poitras said his biggest priority is to continue the path forged by Atkins.
"We truly want to make 19 Wing a centre of excellence for Search and Rescue."
19 Wing Comox's Aurora crews keep watch over the Pacific Ocean looking for illegal fishing, migration, drugs and pollution in addition to foreign submarines. 
With CC-115 Buffalo Aircraft and CH-149 Cormorant Helicopters, they also carry out search and rescue operations in the busiest region in Canada, stretching from the B.C.-Washington border to the Arctic, and from the Rocky Mountains to 1,200 km out into the Pacific Ocean.
The Wing is home to 19 Air Maintenance Squadron and a national training school and the Canadian Forces School of Search and Rescue (CFSSAR). 
It also supports cadet training at the Regional Cadet Gliding School (Pacific) and HMCS Quadra sea cadet camp.
To provide a backdrop to the ceremony, support equipment several Wing aircraft was positioned at the hangar entrance, including a CC-115 Buffalo, a CP-140 Aurora, and a CH-149 Cormorant. 
Her Majesty's Canadian Ship (HMCS) Quadra Senior Band Cadets provided music for the parade.