The future of the Cona Hostel remains unclear.
On March 23, a fire broke out inside the hostel under the 5th Street Bridge, causing major damage to the building.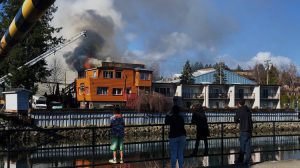 That day, three separate fires broke out, including the one at the hostel.
The Comox Valley RCMP arrested one man who they believed was linked to one or more of the fires.
Four months after the fire, the windows of the hostel remain boarded up as the building's owner, Karla Scott, sorts out details with an insurance company.
"We're still waiting for insurance assessments to come through to make decisions as to what happens," she said. "I mean, perfect world, we rebuild and we're in operations within the year but we don't know that for sure, yet, if that's what is going to happen."
"It's a bit in limbo at the moment," Scott added.
"Dealing with an insurance company, I've never had to do this before so I have no idea. It seems to be a very slow process is all I can say."