The City of Courtenay is celebrating the transformation of the Hawk Glen Park's playground.
The existing playground off Hawk Drive had been well-used since it was installed in 1998, and reached the end of its life.
The city replaced it with new equipment.
Among the new features: a belt hammock, chill spinner, panel maze, slides, climbing apparatus, wood fibre surface, and a friendship swing.
The City funded the $120,000 project.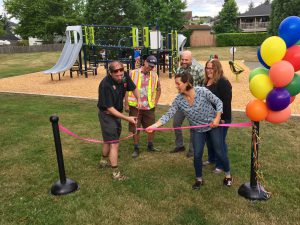 Mayor Bob Wells spoke during a ribbon-cutting today. 
He said it was a long-awaited upgrade.
"My twins, they played here about 12 years ago for several years and I think it was a pretty worn park at that point in time, so it is great to see this refresh," he said. 
Wells added that the project is a welcome addition to the neighbourhood and the city as a whole.
"Our parks are open spaces and some of our community's greatest assets that contribute to a better life for our citizens. I'm very pleased that this project is complete and I know there are many, many children who are happy about it, too."