It's going to be a slow go in a section of Comox, starting tomorrow.
For six weeks starting August 14th, the town will be upgrading underground infrastructure around McLeod and Douglas streets. 
The work schedule will be Monday to Friday and (possibly Saturdays) between 7:00am and 6:00pm. 
The construction company, Copcan, says it will strive to minimize disturbances as the work continues, not notes that certain disruptions will be unavoidable.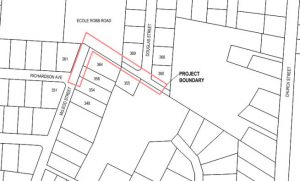 Traffic, on-street parking and driveway access will be impacted. 
The town says a comprehensive traffic/pedestrian management plan has been developed to minimize disturbances. 
During construction, flaggers and signage will direct traffic and pedestrian flow around the construction area. 
The town says residents and businesses in the work zone will have access to their driveway at all times. 
Anyone with concerns about active construction activities or access within the construction project can call Copcan Civil at (250) 754-7260 or email [email protected].