The hunt continues for the machete attacker.
On July 31st, an 89-year-old man was attacked by an assailant with a machete in downtown Courtenay.
It was an unprovoked attack.
The victim drove himself to the RCMP detachment and was hospitalized with numerous facial injuries, including a serious one to his left eye.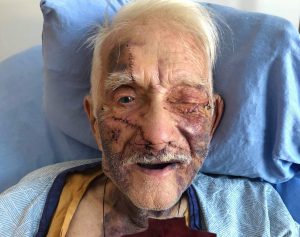 In an update to Courtenay Council, Comox Valley RCMP inspector Mike Kurvers said all efforts are being made to find and arrest the suspect.
"Everybody went 150 percent on this one, we canvassed close to 200 businesses for video surveillance," Kurvers said.
He added, "people have  surveillance footage that's poor quality, or it's facing the wrong direction and they don't know how to use the system, so we have to bring technical savvy members in to kind of work through it, and get the system to work so we can view that stuff."
The suspect is described as "a guy on a bike with a black hoodie."
"That's what we have to work on, so we have to narrow it down to parameters and we have to go through hours and hours of video surveillance to try and pinpoint somebody that's on a bike with a black hoodie, well that's everybody, right, who has a bike and a black hoodie in my world," Kurvers.
Kurvers says a lack of forensic evidence has made the investigation a challenge.
"For us to get forensic evidence, blood has to go inside the car from the attacker," Kurvers said. "That didn't happen."
He added that we are taking baby steps but we are making progress.
Meanwhile, Kurvers was impressed by the victim's fortitude.
"He drove himself to the detachment and stood at the front door waiting for us," Kurvers said. "This guy's tough. He quite impressed me."
Meanwhile, Janelle Karatsikis provided the latest update on her Grandpa Bob.
"We are still unsure how or if his eye will heal," she said.  "He has an appointment in Victoria next week. The scars on his face are healing well. He will need another surgery on his hand as well as it looks like he did slice through a tendon while fighting the attacker off but when that will happen is unknown at this time."