NDP leader Jagmeet Singh made a campaign stop in Campbell River this morning. 
He toured the Habitat for Humanity build on Hilchey Avenue with North Island-Powell River incumbent Rachel Blaney.
During the stop Singh announced a rent subsidy as part of the NDP's plan to address the affordable housing crisis not only on Vancouver Island, but across Canada.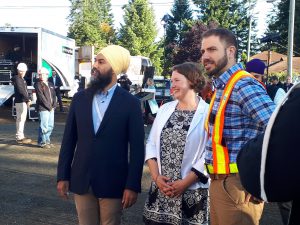 "When I knock on doors across this riding, I hear again and again about the challenges that people are facing. And they are facing a lot of challenges around affordable, accessible housing," Blaney said while introducing Singh.
"And they don't know how it's going to ever get better."
Singh then told the crowd, made up of Habitat for Humanity workers, the subsidy would be worth up to $5,000 a year.
The new policy is in addition to the NDP's plan to build 500,000 affordable housing units across the country.
"There's people that need housing right now, there's people that need help right now. So to help those families out right now, we're going to put in place a rental subsidy. This is going to help families that are struggling with housing today. Families that are in a situation where they might lose their housing because they can't afford to pay the rent.
"According to the PBO (Parliamentary Budget Officer), this will make the difference for families unable to pay their bills. For families making a tough choice between do they pay for their groceries or do they pay rent? Do they buy the medication they need or do they pay for rent?"
Singh says making the policy announcement at the build site was important as housing is not just a problem in large urban centres. He says it's an issue that touches even rural and smaller communities. 
"Like the work that's being done with Habitat for Humanity and other community organizations, we want to partner with them to make up for 30 years of inaction," Singh said, taking aim at previous Liberal and Conservative governments.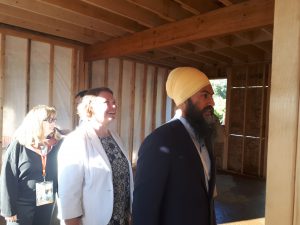 "Given this housing crisis, you'd think that Mr. Trudeau would take it seriously… he says that on the one hand the economy is doing really well, but he's invested 19 per cent less than Mr. Harper as percentage in GDP in housing. How is that a response to the seriousness of the crisis?"
Singh says the NDP would implement the program by working closely with the provinces to figure out which families need help the most. 
"It certainly would not go to the wealthiest, it would certainly not go to millionaires, it would go to families who are in need."
Singh made a stop in Courtenay at Pizzeria Guerrilla following his stop in Campbell River. 
He'll be in Victoria tomorrow where he'll attend the Global Climate Strike there.
Voters go to the polls on October 21st.