Federal NDP Leader Jagmeet Singh made a campaign stop in Courtenay today.
Supporters jammed Pizzeria Guerrilla where Singh joined Courtenay-Alberni incumbent MP Gord Johns for a roundtable discussion. Singh tackled election issues while fielding questions from audience members and the media.
Singh said he wants to help people "who want a better life and are struggling right now."
He added that Canada has a housing crisis, "and it's not just an urban centre issue."
"It's a crisis that is impacting people up and down the island and across Canada," he said.
To help tackle the housing crisis, Singh said that if elected, the NDP will build half a million affordable homes across Canada. He acknowledged that achieving this goal is going to take some time.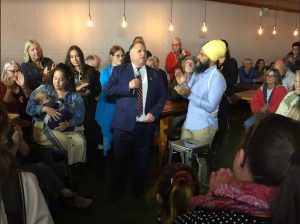 "We've got to make up for three decades of inaction," Singh added. "We're going to fight hard; we're going to put (forward) a massive investment, but for those who need help right now… we're going to put in place rental subsidies that's going to help 500,000 families."
Earlier in the day, he visited Campbell River where he announced a promise for a rent subsidy worth up to $5,000 a year. He noted that he made the announcement in a smaller community to highlight that this isn't just a big city problem.
"This is an issue that's been impacting people everywhere."
Singh said he met a woman in Campbell River who is living with a tent because she can't afford a place to live. He said it was heartbreaking to hear her story.
"She said to me, 'If it was just me, I'd be okay. But I've got kids and I don't know if I'm taking care of them. I don't know what to do,'" Singh related.
Singh said this highlights that our economy is booming "but who is it booming for?"
"It's not working for people. It's working for those at the very top. And for me, this election is about exactly that: the rigged economy that benefits the people at the very top."
Moving on to healthcare, Singh said we're in a crisis because the Liberal and Conservative governments "gave billions of dollars in tax cuts to the wealthiest corporations and cut funding for health care that people need."
Singh said we not only need to defend our current healthcare system, we need to expand it: "If you need medication in this country, you should use your health card, not your credit card."
He wants to share pharmacare costs with provinces.
"I would sit down with any premier and say to that premier, 'You're already spending money on medication. For that exact same amount that you're already spending…. You join with us in a united national program, the same amount not a penny more, you can cover everyone in your province. We're going to put up $10 billion dollars and we're going to cover every single person with their medical devices and their medication, and it's going to make a massive difference in their lives."
He also promised 'Dentacare,' which is access to free dental care for families that earn less than $70,000 a year.
When it comes to the climate crisis, Singh promised that "on day one of a New Democrat government, we end fossil fuel subsidies once and for all."
He added that the government would invest in clean and renewable energy while railing against Prime Minister Justin Trudeau's choices when it comes to environmental protection.
"He said, 'Hey, I'm going to fight for the environment, and what does he go and do? He buys a pipeline. How can you call yourself a defender of the environment, a leader for climate action when you buy a pipeline? No government's buying pipelines now, we're investing in clean energy. That's what we're supposed to be doing."
Singh also warned against voting Conservative. "They are going to put a couple dollars in your pocket, but they're going to cut all the services that you and your family need. And those services that get cut, are going to cost way more than what they're going to give you. People are going to pay the price."
He said the NDP has a financial plan in place to fulfill its election promises. One way, he said, is by having the "super rich pay their fair share" by putting in place a "super wealth tax" on those with fortunes of over $20 million.
"Last year alone, Mr. Trudeau spent $14 billion on the wealthiest corporations on the fall economic statement…. He bought a pipeline for $4.5 billion and last year he wrote off corporate loans. So wealthy corporations had loans… he forgave $6 billion in loans in one year."
Election day is October 21st.