A Comox parent is upset with Brooklyn Elementary School after her child was put through FSA testing without her consent.
The FSA testing, or the "Foundation Skills Assessment" is an annual province-wide assessment of all B.C. students' academic skills in grades four and seven.
The parent reached out to the MyComoxValleyNow.com newsroom explaining her child had been tested even after she submitted a form to opt-out.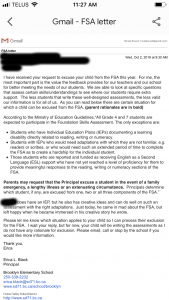 In emails between the parent and Erica Black- the principle of Brooklyn Elementary School- Black mentioned that the student did have an IEP plan but said "he also has creative ideas and can do well on such an assessment with the right adaptations."
Black also highlighted that the student would continue to write the assessments because she did not "have a rationale for exclusion."
The parent said in a reply that her child has a condition that allows him to opt-out of the testing.
"I decided to opt out my son out, he is diagnosed with an Autism Spectrum Disorder and I felt that testing wasn't necessary for my son," said the parent.
She says the school performed part of the test without her permission but then agreed to remove him for the math portion after she sent the email.
She says if a parent chooses to opt-out, the school should respect that decision.
"It's like a field trip. If you opt your child out, your child doesn't go. You can't just force kids to write these tests and it seems like this principle thinks she can. A parent makes the decision, not the principal."
According to the province, all students graded 4 and 7 must take the FSA testing unless they have some specific conditions which include:
Students whose personalized learning standards significantly differ from provincial curricular standards (e.g., students with limited awareness of their surroundings, or students with moderate to profound intellectual disabilities) and are documented in their Individual Education Plan (IEP)
Students identified and funded as ELL students who have not reached a level of proficiency sufficient to provide meaningful responses to the reading or writing or numeracy sections of the FSA's
Students experiencing extenuating circumstances (e.g., a family emergency or lengthy illness).
We have reached out to School District 71, and at the time of this publication are still waiting for comment.