At yesterday's Cumberland council meeting a plan to move forward with the Wastewater Upgrade Project was presented.
The project's coordinator, Paul Nash says the village received approval for federal and provincial funding back in August and that has allowed them to move forward.
Nash says the project will be a three-step process which includes upgrading the current infrastructure to regulation.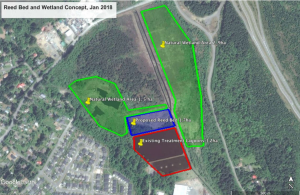 "We have an inlet screening already, we have a lagoon, in fact, we have two lagoons."
"The Solid separation of post-treatment when the water comes out of the lagoon and disinfection is what were going to build. Collectively I call it the lagoon upgrades portion, and that is worth six and a half million dollars. It gets us to where we will finally be compliant," Nash says.
After the system is compliant Nash says they will look at installing the new features.
"The BioChar Media Reed Bed and the wetlands will be done as separate contracts but they will be done later. We can't actually send water to either of those things until the lagoon upgrades are done and in compliance and we actually have clean disinfected water," added Nash.
The timeline for the project is three years, with work starting in 2020.
Nash says the majority of the work will happen throughout 2021 and the final step of the project – to move the treated water to the surrounding reed bed and wetlands – will happen in 2022 with everything wrapping up by the fall of that year.
With the provincial and federal governments covering most of the $9.7 Million dollar project, Cumberland will have to borrow $2.2 Million for its share which will get paid off over 10 years.
For more information on the Cumberland Wastewater Upgrade Project, click here.