A Comox woman is in shock after a letter addressed to her daughter contained a mysterious white substance.
Tina Van Akker says her two daughters went to get the mail yesterday morning but returned with a letter addressed to her daughter sent by someone they didn't know.
"She went out with her older sister, as normal. She came back and asked if there was anyone in Quebec that we know. Right away I said no because we don't know anybody from Quebec. She said that she had a package," said Akker.
She says the contents of that package shocked both her and her daughters.
"She was walking towards me and kinda handed it to me. It was a white envelope and it had a clear little bag with a powdered substance in it and then it had another clear bag with an orange little trinket in it."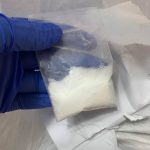 Akker says she immediately contacted RCMP and looked up the return address, which she says belonged to a murdered woman in Quebec.
She says after about an hour and a half the RCMP reached out to her but she says they had a response she wasn't expecting.
"We received a phone call from the police officer and he advised me just to throw it in the trash."
Akker added that after she explained how the letter had been addressed to her 13-year-old daughter she says the officer still told her to "throw it in the garbage", and acted as if it "was nothing too serious."
She says she then put the letter into a brown bag and brought it to the police station so they could do testing.
Akker added that as a parent is very shocking to see something like this happened, but is glad the letter wasn't addressed to someone who would have just opened it.
"As a parent is very concerning, what if it was a younger child or a child that didn't directly go to the parents to show them this, what if they opened it. We don't know what it is, and again the fact that it directly mailed to a child was quite alarming," said Akker.
The Comox Valley RCMP did confirm that the substance is currently ongoing tests to discover what it is, but it would not comment on if an officer told Akker to throw it in the garbage.