The B.C. government needs to act now before it's too late.
That's what North Island MLA Claire Trevena was told during an emotional meeting at the Campbell River Maritime Heritage Centre today.
Trevena invited contractors to share their thoughts on the impact that the forestry strike is having on the industry.
The labour dispute between Western Forest Products and United Steelworkers Local 1-1937 has been going on since Canada Day.
Bill Nelson is a partner with Holbrook Dyson Logging and said 68 workers and two office staff have been laid off as a result of the labour impasse.
Nelson said the government needs to pay attention to some of the social issues that are already happening on the North Island.
"We've got thousands of people out of work, affecting all sectors, now," Nelson said.
He said if the unionized workers go back to work, many of them won't be eligible for unemployment insurance, "so we'd better be thinking about how we'd handle that."
He said there are a lot of bigger issues out there, that the strike is masking.
"We can't see how the implementations of some of the new initiatives that the government has placed on the land base are going to actually affect us… until we get working," Nelson said. "So these things are out there."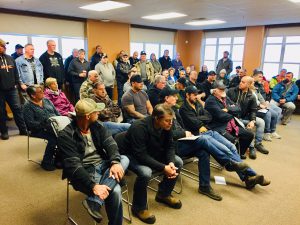 Many at the meeting said the strike is hurting workers, businesses, and the economy and called on the province to act now to help find a resolution.
One speaker said that there is "no time for long term fixes."
"This has to be fixed now," he added. "Not next month or six months from now, it's gotta be fixed now. There's got to be some kind of damage control done right away or half of the people in this room won't be here when it is fixed. And that is a fact." 
Trevena said she is listening, and will take the concerns directly to the ministers responsible as well as Premier John Horgan.
"We are absolutely concerned," she said. "I am fundamentally concerned, our government is concerned by what is happening in the North Island. Yes, it's been heightened by the strike but we continue to be concerned about how communities are surviving into the future."
She said "we all know that the North Island relies on logging."
"So how are we going to make sure that continues?" 
Trevena reiterated that the NDP government respects free collective bargaining.
"And for the reality of the strike, that's what's happening," she said.
"One tool of free collecting bargaining (is), workers can withdraw their labour. And that's what's happened. And the impact of that is well beyond Western (Forest Products) and the steelworkers. Western (Forest Products) knows that, the steelworkers know that, and even if they went back to work today, it would be really difficult because we're into winter, and guys want EI."
No further talks are scheduled after negotiations stalled in mid-November.