Correction:  The caption for the photo originally stated it was Bonnie Harris receiving her key.  We regret the error.

It's a day four Courtenay families will never forget.
Today, they were handed the keys to their new Habitat for Humanity homes at 1330 Lake Trail Road.
These homes, built with the help of hundreds of community partners and volunteers, will provide a safe and affordable living situation for the new homeowners.
This was Habitat Vancouver Island North's first four-door key ceremony, and brings their total families served in 2019 to eight, the most homes they have ever built in one year. 
The first phase of Habitat's Lake Trail Road project began in 2018, and by
the end of 2020, 10 families will be neighbours in this development.
Habitat does not give away free homes. 
The families who partner with them pay an interest-free mortgage geared to their income and volunteer 500 hours with the organization. 
As the homeowners pay off their mortgage, the funds are reinvested into a revolving fund, which Habitat uses to build more homes for more families in the community.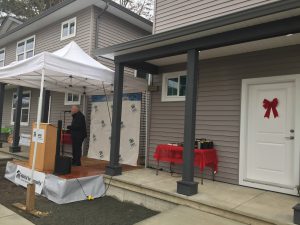 One of the new homeowners is Samantha Syvret. Next weekend, she'll be moving into her home with her two children, ages nine and eight.
Syvret expressed her gratitude to the volunteers and businesses who made it possible.
"I'm so thankful, super excited, very humbled… I couldn't even describe in words how thankful I am," she said.
Syvret said Habitat for Humanity is one of the most amazing non-profits that she ever had the joy of being introduced to.
"The work that they're doing in the community is phenomenal and making big changes for real people, here in the Comox Valley."
Over the hundreds of hours that she put in volunteering at the site, Syvret said she met people who are "beyond exceptional."
"Their drive and determination is something that I've never really seen before, so to be able to get to know them has been one of the best experiences of my life."
The ceremonial passing of the keys was an opportunity to recognize the homeowners for their hard work and dedication, as well as the volunteers, donors, and sponsors who made the dream of affordable homeownership a reality.
"I'm not exaggerating when I say a Habitat key ceremony can be a life-changing experience for those who come out to be part of it. You can expect lots of happy tears, gratitude, and a strong overall sense of community," said Pat McKenna, executive director for Habitat VIN. "And you don't need any prior involvement with Habitat to attend. In fact, it's a great opportunity to find out what we're all about."
During the ceremony, McKenna said "today, we celebrate these homes and these four special families that have demonstrated a partnership with Habitat. And it's a partnership to build community, to raise their family in a safe, secure, and loving environment, to be a good neighbour, and form relationships that will propel them to the future of their strength and stability and self reliance through affordable home ownership."
About Habitat for Humanity Vancouver Island North
Habitat VIN has built 28 affordable homes on northern Vancouver Island since founding in 2004. 
Because of three families who eventually sold their homes back to Habitat after an improved financial situation, Habitat for Humanity VIN has been able to serve a total of 31 homeowner families. 
Habitat does not give away free homes — the families who partner with the organization pay an interest-free mortgage geared to their income and volunteer 500 hours with the organization. 
Visit habitatnorthisland.com to learn more.