The Island Health Authority wants to clear the air about vaping and youth.
That's why it's hosting a free information session tomorrow night at Courtenay's Mark R. Isfeld Secondary.
The session runs from 6:30pm to 8:00pm in the school's multi-purpose room.
Comox Valley Schools and District Parents Advisory Committee are presenting the session, which will be live-streamed on the Comox Valley Schools Facebook page.
That video will also be readily available for future reference.
The info session was months in the making.
SD71 communications manager, Mary Lee, said that in the spring, Dr. Charmaine Enns, the medical health officer for the North Island, along with Scott Riddell, the tobacco and vaper prevention and control officer, spoke to school board members about the increased use of vaping amongst teens and youth.
"Some of the statistics were quite alarming, so it was always in the back of our minds that's important to share this information (with) the community," Lee said. "We want to take a two-pronged approach to address vaping among youths, and one of those areas is education."
With that in mind, Lee said there is a huge education piece that needs to be shared "with families, with teachers, (and) even with the youth themselves."
Lee said the statistics are alarming.
"The government of Canada revealed last year that 23 percent of students in Grades 7 through 12 have tried an e-cigarette even though there are laws prohibiting the selling and distributing of these products to minors," she said. "And in a recent British Columbia medical journal, it estimates that vaping in Canada among people aged 16 to 19 has increased 74 percent since 2018."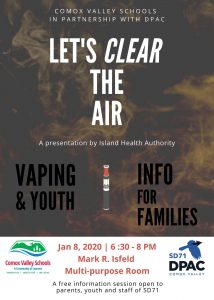 The province also estimates that 30 percent of students from Grades 10 to 12 vape on a regular basis.
Lee said the Comox student population is no different than the compounding problem throughout society.
"Vaping use is prevalent in our schools, so we're taking a proactive approach to address it," she added. "We have a zero-tolerance (policy). We always wanted to provide a safe school community that's free from substance use, but one of the most important ways to address this is through educating parents and families to understand the medical problems associated with vaping, and it is quite alarming."
Province taking steps
In November, the province announced that it will restrict vapour product access, flavours, nicotine content, packaging and advertising, and plans to increase taxes on vapour products.
The goal is to protect youth from risks associated with vaping.
"Some vaping manufacturers are using flavours and advertising to entice and normalize vaping for youth – introducing a new generation to very high levels of a very addictive drug," said health minister Adrian Dix. 
"As a result, youth vaping rates are rising, putting them at risk for addiction and serious illness. That's why we are bringing in the most comprehensive plan in the country, and supporting young people to end this dangerous trend."
The new regulations will restrict the amount of nicotine in vapour pods and liquid to 20mg/ml and will require plain packaging for vapour products that include health warnings. 
Public advertising of vapour products will also be restricted in areas where youth spend time, such as bus shelters or community parks. 
The sale of vapour flavours, other than tobacco flavours, will only be allowed in age-restricted shops.
Back in October, provincial health officer, Dr. Bonnie Henry,  confirmed the first probable case of a vaping-related illness in B.C.
Henry said that vaping "is turning back the clock on decades of effective anti-smoking efforts and creating a new generation of young people addicted to nicotine."
On Sept. 19, Henry issued a notice under the Reporting Information Affecting Public Health Regulation that requires physicians to report incidences of patients exhibiting symptoms that meet the national case definition.
This includes patients:
who report vaping using e-cigarette devices, related products or other means of inhaling a variety of products in the 90 days before symptom onset,

who have pulmonary infiltrates on X-ray imaging, and 

whose illnesses are not attributed to other causes.