Queneesh Elementary students are basking in the glow of their bright new foyer.
Inspired by the students' drawings, artist Jason Craft used latex house paint to transform the space into an aqua-themed, 360-degree mural.
It was a labour of love for Craft, who painted the mural over the Christmas break.
He arrived at the school as early as three in the morning on some days, and often worked until dinnertime to complete the piece on time.
Craft has been painting murals for 15 years professionally and all of his jobs have come from word of mouth.
"I do a project at a school and then another school will see the work that I've done and ask me to come in, so that was the same case, here," Craft said. 
School principal,  Christine VanderRee, contacted Craft this past spring, with an idea for a mural. 
But before his brush touched any of the walls, Craft needed to take one important step.
"The process that I've used is to get student input," he said. "That's the key part, so students can take ownership of the artwork, so Mrs. VanderRee let me meet with the students."
Craft asked every student to do a drawing that would reflect the school's unique identity and its values.
He designed the mural based on the students' drawings.
Craft said the mural was the result of months of preparation and planning. 
"We went back and forth with designs, so I'm always working through it in my head," he said. "When I come in, I know what I'm doing for that day, and I sort of give myself a schedule for the two weeks and I hit that target pretty good."
The payoff for Craft and  VanderRee was the students' reaction on the first day of school after the break.
"It's their ideas on that wall," Craft said. "I discovered my passion for it when I was in elementary school, so I kind of see myself through them, and the wonder that I had for art as a boy, I see that in them, so I'm just hoping that they'll be inspired to do more art."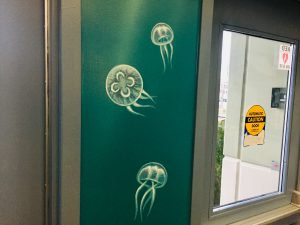 VanderRee said she has "goosebumps" just thinking about the impact of the mural on the students and staff.
"On Monday morning, I invited Jason to come into the foyer before the kids came in, and we forgot to turn the bells on, post winter break," she said. "I was looking at the time, why aren't they in yet, and I looked to the front doors and I see all their faces pushed against the windows (like they were saying) 'Let me in, let me in,'" she said.
"And we opened the doors and they just stopped in their tracks. And then you started hearing it: 'There's my octopus, there's my whale, that's my bird' and they owned it. They knew what they had made for us in September in terms of their contributions to Jason, and they haven't seen them since. And they remembered. It was so important to them."
VanderRee said it was pivotal to the students to see their work honoured the way it was. 
"I've got kids who were begging for their art back, anxious to stand by their whale for a picture with their family and were delighted to speak with Jason about what he did," she said. "It's been amazing." 
Craft took kindergartner Crosby Popkin's suggestion of adding jellyfish to the mural to heart. 
He added them to the piece on Monday night.
"I drew jellyfish because I was really interested by jellyfish because they're pink, and I like pink," Crosby said. 
The project was the result of the fundraising efforts of the school's PAC.