Some Courtenay, Comox and CVRD residents are raising concerns over a future development in Crown Isle.
A public hearing was held last night at Courtenay council for a zoning change that would allow a section of land along Lannan Road and Clubhouse Drive to be a 330 mixed-use residential unit property as an extension of the Crown Isle community.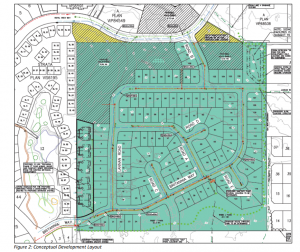 Council chambers were full of those who both opposed the project and those who supported the zoning change.
One of the supporters is Doug Forbes-King. He lives on Berkshire Boulevard in Courtenay and says he believes this is something that could be good for the community.
"As a resident there for 17 years now we've seen Crown Isle grow and I think this is a natural progression of that development. I think the plan they've come up with really incorporates a lot of the benefits that are there; combining some trails together, making some linkages throughout the neighbourhoods. I think it's going to be very attractive and it does fill a need for multi-family as well as single-family within our community."
Others were not too keen, however. Merville resident Gillian Anderson says proper studies and reports should be done to help preserve the forest where the project is expected to be.
"Some of the issues that present themselves for further consideration are a lack of a comprehensive survey of the Brooklyn Creek Watershed, the lack of discussion of the need to conserve the entire forest to replenish the aquifer and its wildlife habitat, and an adequate review of the property which did not contain a bird, insect or amphibian survey," said Anderson.
"We ask you to save the forest in its entirety; this should be a priority. One of the goals of the OCP is to protect environmentally sensitive areas and support sustainable development practices. A major change to the OCP must make this goal a priority."
The discussion around water management was also a common theme for those concerned with the proposal. CVRD Area B Director Arzeena Hamir attended the public hearing to represent her constituents.
She says a proper hydro logical study should be done before the zoning change moves ahead because the project will affect all Comox Valley residents in the area, not just Courtenay.
"The idea of draining property elsewhere I think is a 20th-century method of engineering and I really hope this council considers a more up to date and ecological response to water, which generally means figuring out how to infiltrate that water on-site without impacting downstream," says Hamir.
"Downstream of this property are so many jurisdictions, apart from Area B residents, town of Comox has been impacted The Ministry of Transport is going to be involved because some of these ditches are moody ditches in Area B and so as we get more jurisdictions involved it becomes so much more complicated to correct a problem once it's in place."
"Before this council decided on something that could really impact residents outside your jurisdiction I hope you will create a professional hydrologist should be hired and a proper hydro-logical study is done of the site," she added.
The OCP/Zoning amendment has already passed the first and second readings from council and after hearing the public feedback Monday night, a third reading is set for a future council date.
To learn more about the zoning change for the property near Lannan Road and Clubhouse Drive, use the City of Courtenay's development tracker.