It's a place to rest, recharge, and find refuge from the elements.
In its second week of operation, the Connect Warming Centre at 685 Cliffe Ave. has had between 30 and 60 visitors per day.
It's run in city-provided space by the Comox Valley Transition Society, in partnership with the Comox Valley Coalition to End Homelessness.
The warming centre is open until March 31, when the agreement between the city and the transition society expires.
Transition society executive director, Heather Ney, said the hope is that the centre will remain open past that date, to give the community's homeless relief from the heat when the weather warms up.
Comox Valley Coalition to End Homelessness co-ordinator, Andrea Cupelli, added that the coalition's ultimate goal is to have a permanent drop-in space.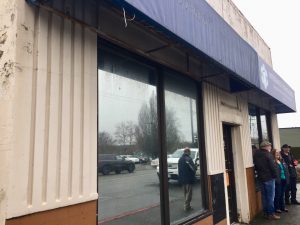 "Certainly in the summertime, it's going to be hot and people are going to need a place to cool down so we will be speaking with the City of Courtenay and giving a delegation in March just to tell them how well things have been going and how this is so needed in our community."
An open house was held today, so that community partners can have a look at what goes inside a warming centre.
Transition society executive director, Heather Ney, said the warming centre was a godsend for the homeless, during the recent winter storms.
"I think we opened just in time with that huge snowfall, last week, and we certainly saw the numbers in here," Ney said.
The centre offers WiFi, and snacks and is open from 1:00pm and 5:00pm Monday to Friday.
There are also outreach workers at the centre every afternoon.
"Not only is it a respite from the cold, but people who come in here can connect with an outreach worker, fill out forms for identification, for housing applications, whatever it is they need, and just make some really good connections," Cupelli said.