A Courtenay resident is sounding the alarm about mail thieves.
Amy Brawn says the mailboxes on Davis Road were "torn off of their stands" on Thursday.
She said there is a note on them saying that they were vandalized by criminals.
"Most of the mailboxes are open and mail is gone," Brawn said.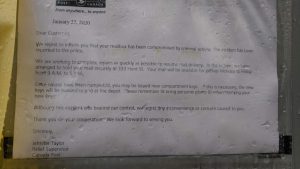 "I went to go grab our mail and as soon as (I turned) down the road you could see the mailboxes were not sitting on their stand," she said.
"I don't know if someone hit it with their vehicle or what exactly happened."
Brawn said one of the mailboxes seemed to be "gone completely."
The remaining one on it was wrapped in yellow tape.
A note attached to the mailbox from Canada Post said "we regret to inform you that your mailbox has been compromised by criminal activity" and the incident "has been reported to the police."
It went on to say that Canada Post is "working to complete repairs as quickly as possible to resume mail delivery."
Brawn said she was surprised by the incident.
"Generally it's been pretty quiet," she said. "We've been here for about 26 years."
She said that she is concerned about what kind of information the thieves may be getting their hands on.