The Town of Comox wants to hear from you about a proposed recreational cannabis store.
It's taking written comments on a licence application for the store, proposed for 278 Anderton Road.
Council members will consider the application and public comments at their May 6th meeting.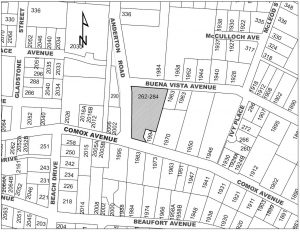 While the meeting is closed to the public due to the pandemic, it'll be live-streamed on the town's Facebook page.
You have until noon on April 30th to submit your comments.
Prime Cannabis is proposing store hours to be between 10:00am and 10:00pm Sunday to Thursday, and 10:00am to 11:00pm Friday to Saturday. 
Comox is home to two recreational cannabis stores: City Cannabis at the Comox Mall, and Coast Range Cannabis on Church Street.
Subject property at 278 is shaded on map.