There are a couple of peaceful protests planned at Courtenay's Simms Millennium Park, to support the Black Lives Matter movement.
They're happening on consecutive days with the first one taking place today at 5:00pm. It's in solidarity with Black Lives Matter and Justice for indigenous peoples of Canada.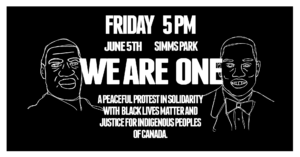 It is being organized by Chai Sullivan, Daruna Nikii, Timothée Monier, and Kalliese Chapman with the intention of being led by people of colour from around the Comox valley.
The second protest is tomorrow from 11:00am to 1:00pm.
Organizer Georgia Rodgers saw that there wasn't much happening on the island in response to the killing of George Floyd at the hands of a former Minneapolis police officer.
READ MORE: Black Lives Matter rally in works in Courtenay
She felt she had the power to be more than just another voice online.
"Yesterday was Blackout Tuesday, and I didn't feel posting something on Instagram or on Facebook was really enough," she said this past Wednesday. "I had thought about how if somewhere on the island, there was going to be a gathering I would really want to go and then I thought, 'Why would I wait for someone else to organize it when I'm completely capable of organizing it on my own."
With both protests, you're asked to practise physical distancing, bring a mask if you own one, and bring your own sign, if possible.