It's a win/win for residents of a Comox long-term care home and their furry, fishy, and fine-feathered friends.
In an age of restricted visitation rules in care facilities, residents at The Views are finding comfort in the company of live-in pets.
The Views – the future site of B.C.'s first publicly funded dementia village – is home to three cats, four birds, numerous fish, and a Pacific Assistance Dog Society (PADS) dog named Bunny. The latter, an American Yellow Labrador Retriever, accompanies one of the activity staff members when she is working.
Pets will be part of the landscape at the dementia village that's expected to be completely built in four years' time. 
Providence Living president and CEO Jane Murphy said they started taking in pets about 15 years ago.
Murphy said the live-in pets are a source of happiness for residents.
"When you see them interact with the pets, be it whistling at the birds or petting the cats, or just watching the fish, you can just see faces light up, smiles, really joyful, and I think especially these past couple of months with restricted visitation, pets have offered a wonderful source of comfort and joy to our residents."
She added that the comfort of pets embodies their philosophy of care.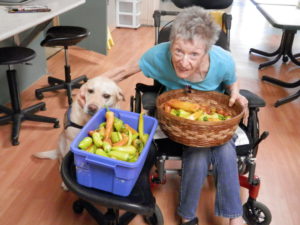 "It will be further supported when we build our dementia village in a few years time. We will continue to have pets companionship and the design of that building does provide an opportunity to potentially have more pets in that we have very small households of residents living together," Murphy said. "So collectively, as we do now, the residents will decide if they would like a pet and what type of pet. But given the design features I think it is very likely we will see more pets in the dementia village."
Murphy said the cats, each of which came from a rescue shelter, truly enjoy being with the residents. 
"There is space (where) each of the cats could go should they wish to be by themselves but they spend the vast majority of their time out with the residents and their favourites. They will be on laps and spending time with the residents and you can tell they very much enjoy their lives."
The Views shared some of the good news stories:
A caring cat in action
Last month, a female resident in her late 90s with dementia and no local family to make window visits was declining rapidly, crying all the time and not eating. 
Joey the cat repeatedly went into her room and lay on the bed quietly with her. 
The resident smiled and rested comfortably, and eventually resumed drinking fluids. Joey appeared to sense she was distressed and gravitated toward her to soothe and comfort – something that happens quite often with the live-in pets.
The happy tale of Bunny and Roy
Prior to COVID-19 when a resident named Roy, a great dog lover, came to live at The Views, he always looked for Bunny whenever she came in to work for the day. 
Bunny automatically went to Roy every morning to greet him. Roy was able to groom Bunny, take her for walks in the company of her handler, and sit with her on the bus every time they went out together for a ride. 
They developed a great friendship. 
As Roy's dementia progressed, Bunny went on this journey with him. She was able to provide unconditional love and companionship throughout the disease process.
A legacy of pawsitive pet experiences
Pets have been part of The Views for a decade and a half since the arrival of the first PADS dog, an English Black Labrador Retriever named Haley. Haley demonstrated to staff at The Views that pets on campus were hugely beneficial for residents by giving comfort and easing loneliness. Since then, both live-in pets and visitation pets have been a big part of The Views' landscape.
In pre-COVID times, The Views has played host to visiting kittens, lambs, goats and horses. The care home also annually presents "Dog Days of Summer" events where staff can bring in their dogs for an afternoon. 
The canines take part in a parade and contests for various categories, such as best dressed dog and dog who looks most like the owner. Since COVID, family members have been able to bring in pets for outside window visits, proving it's not only residents who experience the benefits – family members say their pet visits have made them feel better, too.