Comox Valley United Soccer Club members are voicing their frustration about a rash of vandalism in the valley.
On Saturday night, vandals threw garbage on the pitch and flipped nets on their sides at G.P. Vanier Turf Field.
Club president Stefan Szkwarek said this level of mischief isn't just an annoyance, it's a safety concern.
"Those nets, if they are tipped on their side like they were, imagine them falling on a child," Szkwarek said. "They could kill somebody, so people sometimes make poor choices and that's what happened Saturday night or early Sunday morning."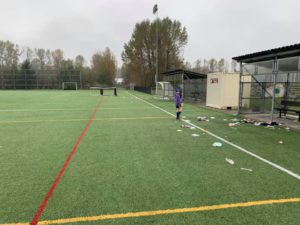 As far as the garbage goes, Szkwarek said that also was also potentially dangerous given our COVID environment.
"Clearly that was our coaches who have had to clean it up and they're putting themselves at risk, right?" he pointed out. "Most of our coaches are volunteers so nobody should be put into harm's way for providing a community service."
Szkwarek filed a report with the Comox Valley RCMP. He said that police told him that they plan on increasing patrols in the area.
The local soccer club is not just trying to build good soccer players, but also good people, Szkwarek said: "It doesn't matter how great of an athlete you are if you're not a very good person. If your character is flawed, you're not going to succeed in life. So when we see this, it's demonstrative to the ills of society, in that some people think that a joke on a Saturday night is not a big deal, but it does have an impact."
Szkwarek says this "is not a one-off" as they've had nets flipped at Highland and Valleyview in the past month, as well.
"The garbages are constantly being dumped out like this too and we've seen disgusting graffiti at Vanier in the past year including swastikas which for people like me, who had grandparents in concentration camps/taken as slaves in WW2 is extremely hurtful," he said in a Facebook post.
Szkwarek said the club is proud of being community partners and has invested nearly $1 million in local sports infrastructure (including investing in the turf, lights, purchasing goals, nets and a building) with more coming in the near term.
He added that this has allowed other groups to benefit from the club's investment and allowed "many a child to blossom in the beautiful game."
"This said, we have grown tired of the vandalism that is happening more and more so if you know who did this, please let us know," Szkwarek noted.
"We as a community are better than this but by the looks of it, all of the nets are going to be locked up very soon as we have no other choice."
Szkwarek said he and a few other volunteers have spent countless hours getting young players back on the field.
"And for our public leaders, perhaps locking up the nets or setting up security cameras – these sorts of things might be an option," he added. "After my post, a lot of community leaders stepped up and I'm really thankful for those that did. It just demonstrates that there are good people in charge and they do care and they want to find solutions. That is a win in itself."