Comox Valley Toyota is temporarily closing its doors after a COVID-19 exposure.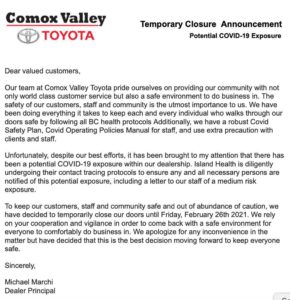 "Unfortunately, despite our best efforts, it has been brought to my attention that there has been a potential COVID-19 exposure within our dealership," said Dealer Principal Michael Marchi, in a letter posted on the dealership's Facebook page.
"Island Health is diligently undergoing their contact tracing protocols to ensure any and all necessary persons are notified of this potential exposure, including a letter to our staff of a medium risk exposure."
Marchi said to keep customers, staff, and the public safe and out of an abundance of caution, they are temporarily closing their doors until this Friday, Feb. 26th.
"We rely on your cooperation and vigilance in order to come back with a safe environment for everyone to comfortably do business in. We apologize for the inconvenience in the matter but have decided this is the best decision moving forward to keep everyone safe," Marchi said.