A Campbell River car dealership is hanging up the keys for the time being.
Steve Marshall Ford is temporarily closing its doors to the public, after one of its staff members tested positive for COVID-19.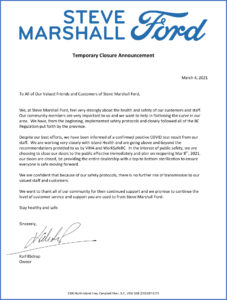 Owner Karl Ebdrup says the dealership is now working closely with Island Health, going "above and beyond" the recommendations provided by VIHA and WorksafeBC.
The dealership plans to reopen this coming Monday, March 8th, and Ebdrup says the building will be sanitized from top to bottom.
"We are confident that because of safety protocols, there is no further risk of transmission to our valued staff and customers," he says.
From the beginning, Ebdrup adds that the dealership implemented safety protocols and closely followed all of the regulations put forth by the Province.
"We want to thank all of our community for their continued support and we promise to continue the level of customer service and support you are used to from Steve Marshall Ford."
This comes after a COVID-19 exposure at Comox Valley Toyota meant it had to temporarily close its doors on February 22nd. That dealership has since reopened.