https://youtu.be/myWyxMpYLFc
The quick response from Campbell River firefighters stopped a fire from spreading at the Discovery Marina.
Campbell River fire department captain Bruce Holbrook says the call came in at around 6:22am.
"When (the) crews first arrived on scene they had two boats, approximately 40 feet in length that were fully involved," Holbrook explained.
"So their first attack was to deal with exposures, meaning that we try to keep other boats next to them from catching on fires, and then they turned their attention to the two boats to extinguish."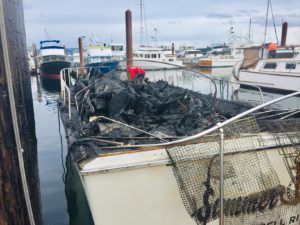 There was a person in one of the boats. He got out safely and Holbrook said didn't appear to be injured, but he was taken to hospital to get checked out.
Holbrook said they had two engines and two aerial trucks, and one duty officer on scene for about two hours.
He added that the Coast Guard played a key role in the response: "Coast Guard came on site with us and they're awesome. They work with us to manoeuvre boats if we need it and in this case we actually got them to turn the one boat so we could fully extinguish it."
Holbrook said the biggest challenge with boat fires at marinas is how closely the boats are packed together. "So any time you get a boat going (on fire) the problem is exposures, meaning the boat next to it possibly catching on fire."
Water systems are already built into harbour systems in Campbell River which is a huge help for firefighters, Holbrook said.
"What that means is we have standpipes that are underneath the docks, and so our crews tie in at the top of the dock and then we pressurize all that so that we hook up all our fire fighting hoses that we attack from, on the finger where the fire is, and all of that was functioning well and we had no issues, there."
The cause of the fire is still being determined.