You're invited to bid farewell to the late Greg Geldart tomorrow morning (Mar. 22nd).
The Comox Valley man and former firefighter lost his battle to throat cancer and passed away on Tuesday, March 16th.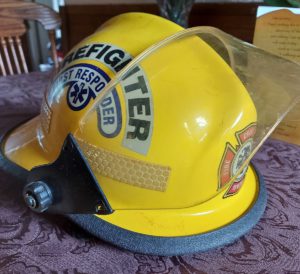 To honour his 30 years as a Canadian Forces Firefighter, Greg's wife Sandra says local fire departments and 19 Wing Comox will be sending fire trucks to accompany him to Elk Falls Cemetery.
"Comox Valley fire crews will join the procession from the Veterans Memorial Parkway, Oyster River Fire Department will join at Howard Road in Merville … with Campbell River Fire greeting him at the south end of their city to complete his final journey," Sandra explains.
She's now reminding those wanting to pay their respects to gather at the corner of the Old Island Highway and Jubilee Parkway in Campbell River from 11:45 am till noon.
But if you can't make it out to that intersection, she says anywhere along the highway between Courtenay and Jubilee Parkway from 11:00 am till noon works too. And, if possible, Sandra's asking you to wave a Canadian flag as Greg passes by.
"Greg would be so incredibly touched, and I am bursting with pride. His casket will be draped in the Canadian flag, and so fittingly, his rescue helmet will rest on top," Sandra adds. "My heart is full."